Getting Excited About the Summer 2021 Paralympic Games!
by Amber Henson, on Jun 29, 2021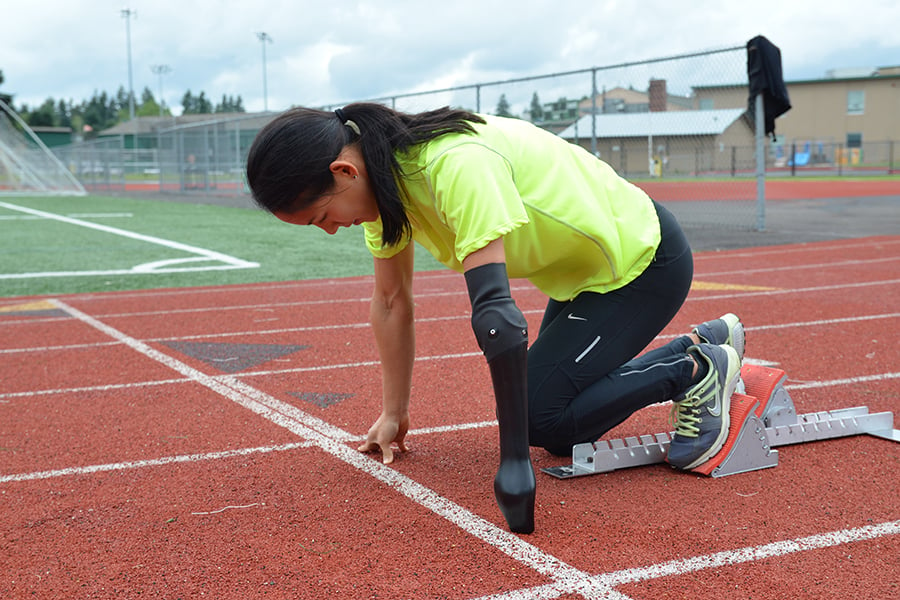 Last year, the Paralympic Games were disappointingly postponed due to the COVID-19 pandemic. This year, they are scheduled to start on Tuesday, August 24 and end on Sunday, September 5. We are looking forward to watching athletes of all abilities compete on the world stage!
Just last weekend, one of our patients from our North Central Center in Minneapolis qualified for the US Paralympic Team! Summer Schmit will be making her Paralympic debut. From Summer's Team USA bio: "Summer was born with congenital disarticulation of the right wrist and has no right hand. She began swimming competitively with St. Croix Swim Club at age 11."
Lizzi Smith, a patient from our Southwest Center in Dallas, has also qualified for the swim team and will be returning for her second games. From the USA Paralympic 2021 Swim Team announcement, in 2016, Lizzi earned "…one silver and one bronze medal as a member of relays and finished just off the podium in both the 100-meter butterfly and 100-meter backstroke." Update! Lizzi won a silver medal at the 2020 Tokyo Paralympics!
We also have two patients who have been training at the Paralympic level.
Michael Kacer (pictured below) is one of the patients that we saw back when our Arm Dynamics clinicians were the sole provider of upper limb prosthetic care for wounded troops returning from Iraq and Afghanistan at Walter Reed National Military Medical Center (from 2003-2014). You can learn more about Michael in his Patient Success Story video. Michael trains year-round as part of the U.S. National Paralympic Taekwondo Team.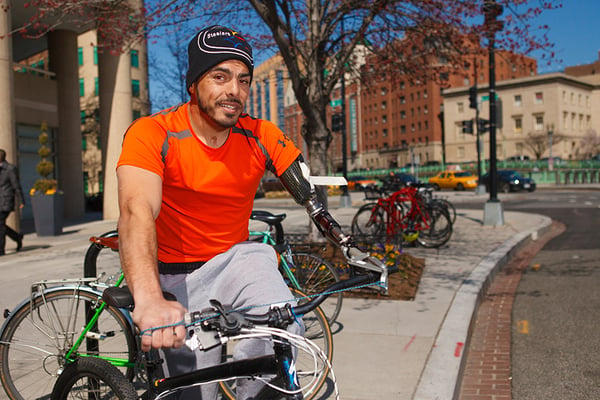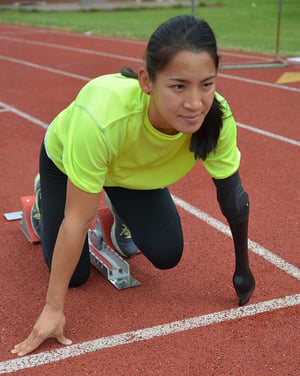 Katie Walker, pictured at the top of this article and to the left, is a patient at our Northwest Center in Portland, OR. Katie has competed in international Paralympic track and field events and loves sports of all kinds — most recently she's discovered a passion for cycling. In February, she was featured in the campaign for Nike's Go FlyEase, an adaptive sneaker that allows people to put it on and take it off without using their hands. Check out her Instagram page for more updates on this great athlete.
There will be so many events during the Paralympics that will feature upper limb amputees, we know there's no way we're going to be able to watch them all. But we can try! This year, "NBC Universal will air a record 1,200 hours of Paralympic coverage from the Tokyo Games, including the first NBC primetime broadcasts in history as part of unprecedented programming for a Paralympic Games." [Source] In addition, "NBCOlympics.com, the NBC Sports app and Peacock will live stream all TV coverage." Yes! We'll have to start stocking up on coffee if we want to stay up to watch many of the events live, but it will be worth it!
*Update: Be sure to check out our article about the Winter Paralympics 2022!
Do you have any suggestions about specific athletes, teams or sports we should be watching during this year's Paralympics? Please comment below. Or are you interested in learning more about the activity-specific devices that these athletes rely on for training and competition? Feel free to contact us. We're looking forward to August and we hope you're with us!
For more information, see related Arm Dynamics articles here: