An Overview of Arm Dynamics Research and Development Efforts
by Amber Henson, on May 4, 2021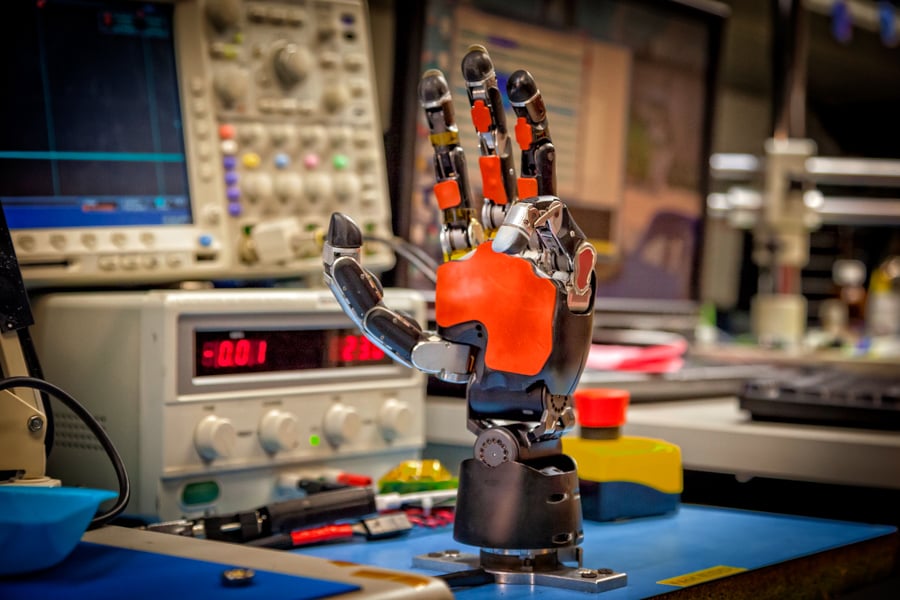 The focus of our Arm Dynamics clinicians is to make sure that we are providing our patients with the best prosthetic care possible. Most of the time, that involves our clinical teams working in our centers, directly with our patients. But that's not the only thing we do to make sure that our patients are receiving outstanding care. One of the ways that we Redefine Possibility is by pushing the boundaries of prosthetic technology. We do that through our research and development.
We have worked with several organizations in the past, including the Defense Advanced Research Projects Agency (DARPA) of the Department of Defense, the Food and Drug Administration (FDA) and the Cleveland Clinic. You can learn more about each of those partnerships on the Research Collaborations page of our website.
We also collaborate with many manufacturers to field test emerging prosthetic solutions including fingers, hands, wrists, elbows, shoulders, electrodes and software. For example, in 2017, we worked with TASKA to field test a pre-production, pre-release version of the TASKA hand, and provided reports detailing the perspectives of prosthetists, therapists, technicians and patients. Over the years, we have collaborated with other manufacturers and decided whether to add their products to our list of recommendations.
Before we agree to partner with a company, we first build relationships with them, so we get to know their work and they get to know ours. One of the ways that we do this is by inviting them to be keynote speakers and presenters at our symposiums. For our 2021 Virtual Symposium, we had presentations from Point Designs; the FDA; Tyler Hayes and the Atom Limbs team; Dr. Glenn Gaston, who discussed a unique surgery for finger amputees called the Starfish Procedure; and Rahul Kaliki of Infinite Biomedical Technologies.
Being involved in cutting-edge research and development is integral to our care model. Why? Arm Dynamics' president, John Miguelez, put it best in a recent interview with this author:
"We're involved in research and development because we want to make sure that we're advancing the science so that our patients have the most functional prostheses possible. We want to be able to provide those devices in a responsible way, and being involved in research and development allows us to know the benefits and limitations of the technology out there. It's part of our commitment to our patients. Our proprietary novel outcome measures give us the opportunity to do a deep dive into products and technologies to really understand the reality of what devices and surgeries are capable of, not just the hype."
Are you interested in learning more about how our Arm Dynamics prosthetists and clinical therapy specialists can help you or your patient? Please contact us. Do you have a comment about any of the above information, or would you like to share how Arm Dynamics research and development has helped you? Please do so in the comment section below. Thanks for learning with us!
For more information, see related Arm Dynamics articles here: