Arm Dynamics Virtual Symposium 2021
by Amber Henson, on Apr 20, 2021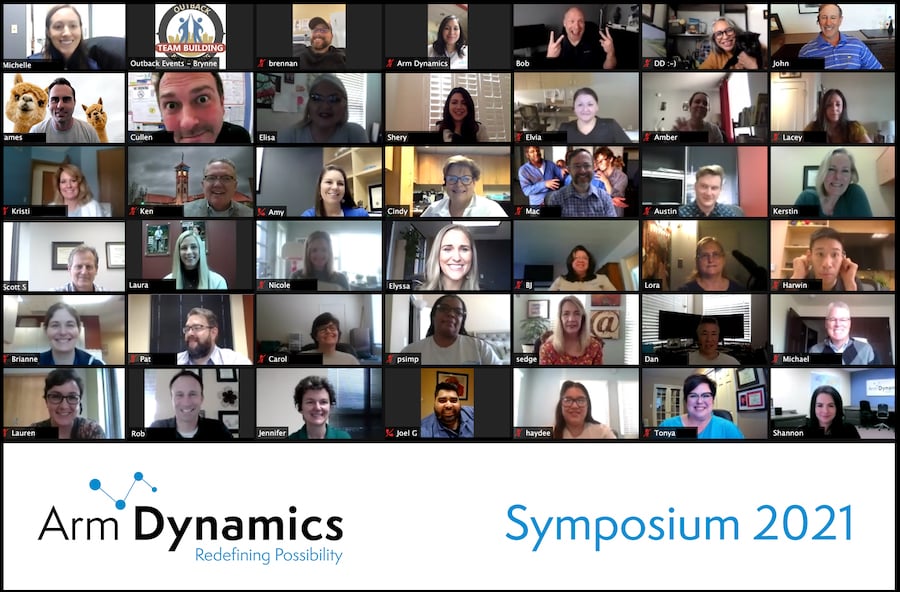 During the week of April 5-9, every Arm Dynamics employee took part in our virtual symposium. In other years, we usually meet at our corporate headquarters in California for a few days to hear from keynote speakers and manufacturers and have team building exercises. This year, we did the same — just over video chat. While we all missed seeing one another in person, we did enjoy seeing each other and learning!
The first presentation that we had meant the most to us. Jason Koger, our patient for over ten years, discussed his injury, rehabilitation and his relationship with us. While many of us have watched Jason's videos, it was something else to hear him speak directly to our team. Our team agreed that starting with Jason was a smart move!
We can't tell you, dear reader, all about each outside presenter we welcomed, as some of our research collaborations are top secret. But we can tell you that we had presentations from Point Designs; the FDA; our friend Tyler Hayes and the Atom Limbs team; Dr. Glenn Gaston, who discussed a unique surgery for finger amputees called the Starfish Procedure; and Rahul Kaliki of Infinite Biomedical Technologies. There was so much information to take in and we happily had time to ask questions of each presenter.
During the symposium, each of our centers had the opportunity to present a detailed patient case study. Some centers discussed the challenges that unique cases can hold, others pointed out what they had learned along the way and how they can use that knowledge to help future patients. Our team in Portland gave their presentation on Austin Anderson, one of our featured patients.
We also had the chance at the end of the week to do a social shuffle, hosted by Outback Team Building and Training. This gave us the time to get to know our team members better by discussing books, travel, movies and more with each other.
While we can't wait to meet up with one another in person soon (outside of the centers), this event was informative and lively. Thanks to our team for making it extraordinary!
For more information, see related Arm Dynamics articles here: