The Lived Experience: Peer-to-Peer Support by Arm Dynamics Patients
by Amber Henson, on Jun 22, 2021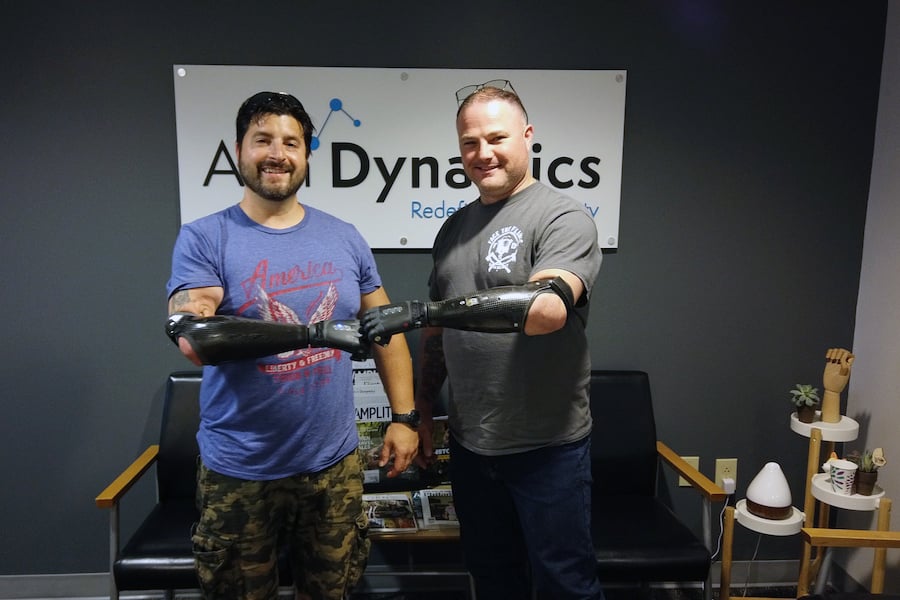 Our care team provides wonderful training and education for our patients. Still, our support is not the same as that of a peer — another person who has lived the experience of upper limb loss. The bond that connects our patients through their shared experience of living with limb difference is priceless. Witnessing the positive effects of peer support inspired us to create an extensive Peer Support Network. Members of this group share their stories and experiences of adjusting to upper limb loss and prostheses with those who are just beginning their prosthetic journey, whether by phone, email, on social media or in person. Mental health is an important aspect of each patient's rehabilitation, therefore we strive to reassure our new patients that we are more than just a prosthetic company: we are a community of people who are here to support our patients.
Here's a great, recent example of how peer support can come together. When our patient Steve (on the left in the picture above) came to our Philadelphia center to get his new prosthesis, he worried about public perception. He was concerned: What would people think when they saw his prosthesis? Would the prosthesis attract stares, elicit fear in a child, or invite a bombardment of questions? The potential for negative attention prevented Steve from confidently wearing his prosthesis outside. His Arm Dynamics clinical therapy specialist seized the opportunity to coordinate a peer support luncheon. Steve, who had been fit with a new TASKA hand, met with another one of our patients, Brian, who had been successfully using his TASKA hand for more than a year. Steve was able to learn from Brian as they chatted about which grip patterns they use and why, what activities they can now do with the prosthesis, how to overcome limitations, how they respond to people asking about their amputation/prosthesis, and more. Seeing Brian wear and operate the hand so smoothly reinforced Steve's excitement about his own prosthesis and instilled confidence that he, too, could be successful with his robotic hand.
After the luncheon, our clinical therapy specialist noticed a significant decrease in Steve's anxiety and an increase in his confidence while participating in community integration therapy. Steve said that he found our Peer Support Network to be helpful during his recent prosthetic fitting, so much so that he has now volunteered to become a patient advocate himself.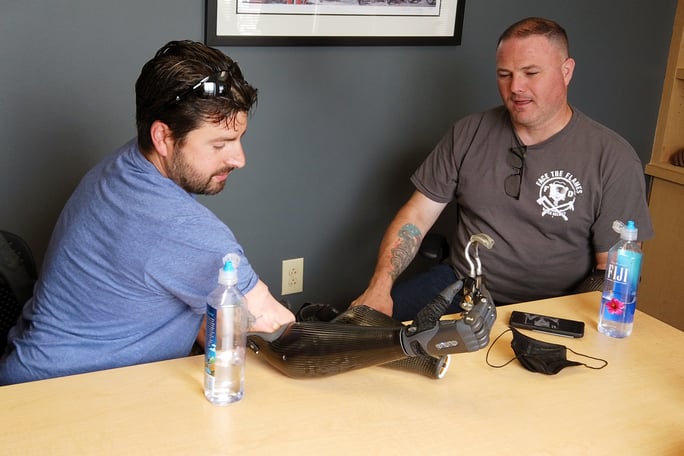 Arm Dynamics peer support is available at any time throughout the prosthetic rehabilitation process. Some surgeons may recommend peer support in the hospital for a person who is about to have or just had an amputation to discuss how they manage physical or psychological challenges and what to expect. Or some, like Steve, may find the peer support they need years after their initial fitting. Time is an insignificant marker to what matters most: the connection.
Peer support is especially crucial to bilateral limb loss patients. You can watch Gerry, who had his accident in 2016, and Jeff, who lost his arms more recently, have a chat about the value of peer support:
If you're interested in peer-to-peer support, from either side, please inform our clinical team. If you are new to our company, you can ask about this during the complimentary consultation that we offer all potential patients. Otherwise, please let your center team know and they will connect you with one of our patient advocates in our Peer Support Group. You are welcome to contact us directly — and we also appreciate comments!
You can offer and receive peer support through our Arm Dynamics Peer Support Group on Facebook as well. This private group is open to our Arm Dynamics patients. We'd love for you to join!
For more information, see related articles and resources here: