Abram Nichols: Double Amputee and Stay-At-Home Dad
by Amber Henson, on Mar 14, 2023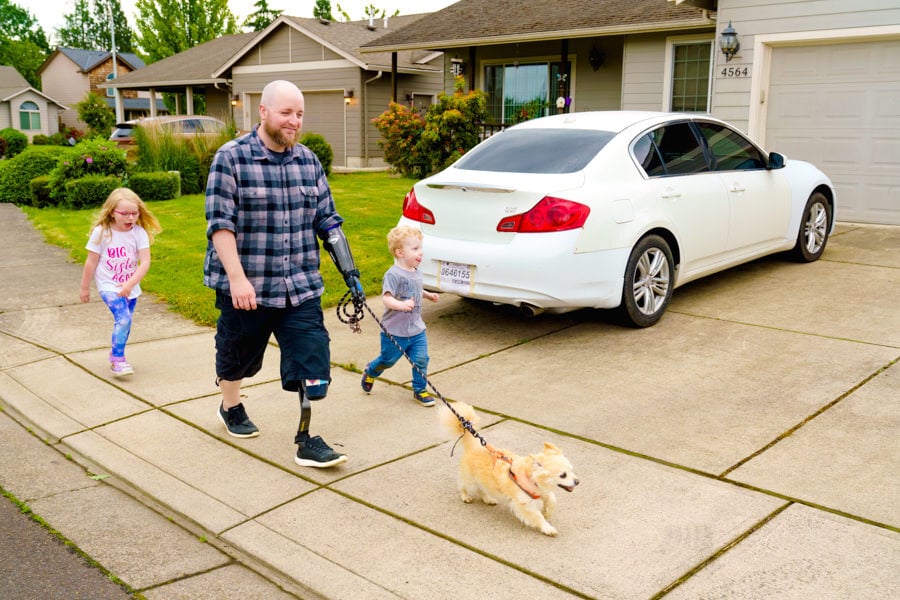 When Abram was 17, a tumor in his foot caused the amputation of his left leg below the knee. Nine years later, a tumor formed in his left hand, and it had to be amputated.
Abram talks about not hiding who he is in the video below, noting, "Yes, I may look different, but I am the same."
Now Abram is married to Katie, and has three children, Caydence (5), Elias (3) and newborn baby, Lydia. Their home vibrates with laughter and fun. It's a lot of littles to manage, but Abram pulls it off with a smile and the support of his two prosthetic limbs. His arm prosthesis was fit at our Arm Dynamics Portland center.
Abram has always shown off his prostheses — his prosthetic leg in the video above has a Superman emblem on it. He's happy to stop and explain his differences to any kids who stare at him or ask about his limbs. Now he takes plenty of time to educate his own kids about his prosthetic devices and how they help him.
His new TASKA hand, a multi-articulating myoelectric device, is exciting for the kids: when asked about it, Caydence exclaimed, "Dad's robot hand is so cool!" She and her brother take turns pushing the buttons on the back of the hand to change the grip patterns.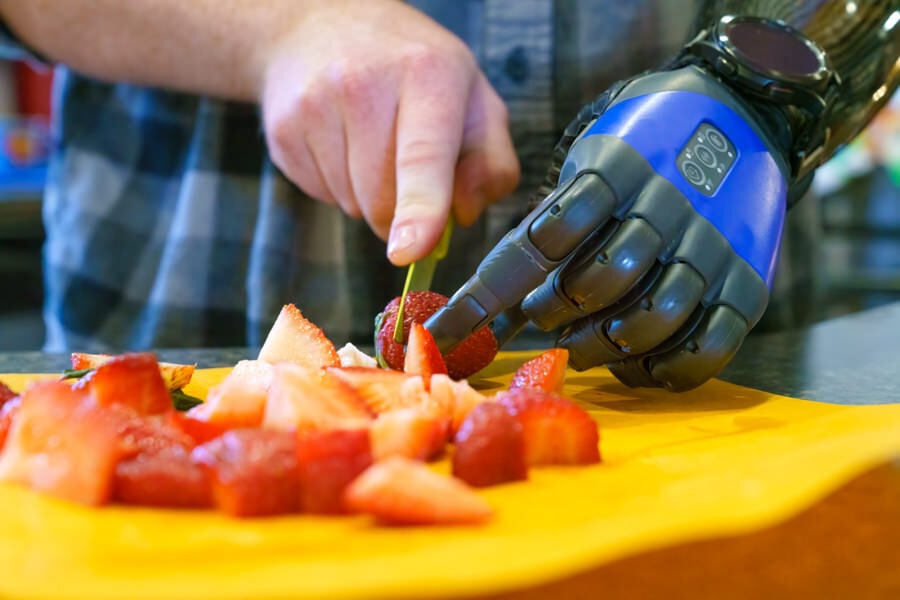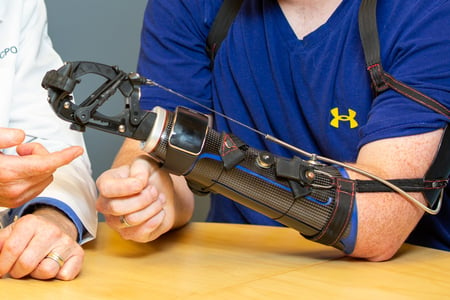 After using a body-powered arm for years (left), Abram decided to give a myoelectric device a shot, one with a "super comfortable" silicone socket. "I do all the meal prep for our family, and my TASKA hand makes it a lot easier to hang on to things. It helps me with groceries. I loop all the bags on my arm, turn off the sensor so it won't open, and carry everything into the house in one trip. And my right hand is free so I can wrangle the kids."
Abram had time to adjust to his prostheses before he became a father, but that doesn't mean that people can't 'learn on the job'. Check out our articles about parenting with a limb difference, including babies, toddlers and school-age children.
If you would like to learn more about how our Arm Dynamics clinical team could fit you with a "super comfortable" silicone socket and teach you how to use your prosthesis, please contact us. If you have a comment or a message you would like us to pass along to Abram, please leave it below. We hope you have enjoyed learning about our patient, Abram!