Parenting When You Have an Upper Limb Difference: Toddlers
by Amber Henson, on Apr 26, 2022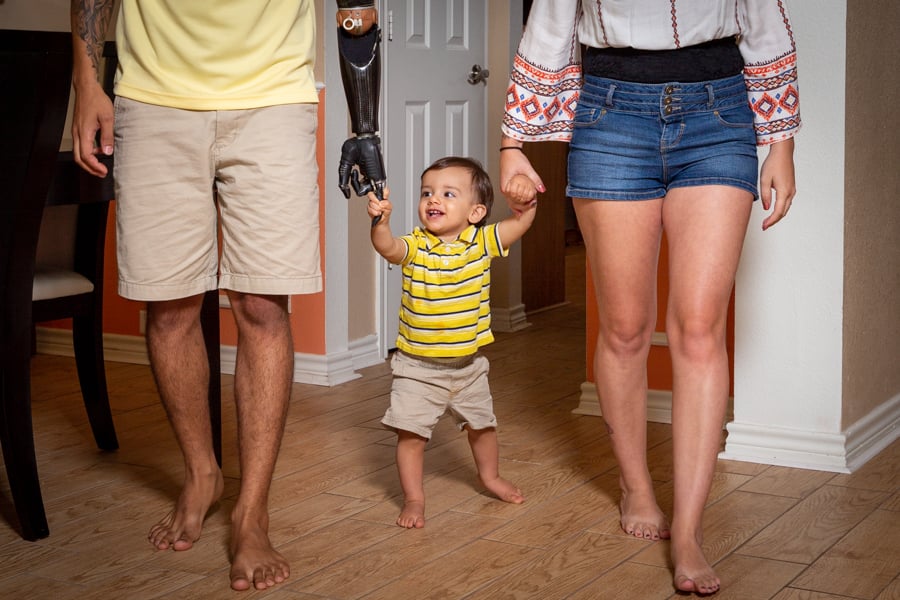 This is the second in a series of articles we'll be featuring about different ways people can parent their children when they have an upper limb difference. The first was our article about babies and we also have an article about school-age children. In this blog, we'll have some advice about toddlers. We wish we could give you advice beyond tasks you can handle with or without your prosthesis — the toddler years are tough — but we'll focus on these situations and tasks.
Your Child or Their Peers Noticing Your Limb Difference
Arm Dynamics employee and congenital amputee Kristi Wolfgram adopted her daughter at the age of two. Kristi remembers that during the first couple of days together as mom and daughter, she would make sure to wear her prosthesis all the time, just to keep things consistent. "But one morning I didn't have it on. She walked over to my device and handed it to me — she was used to me wearing it and that's what she wanted." Her daughter is older now: "Sometimes she'll say 'Mom, you only have one hand,' and I'll say, 'Yeah, except for when I wear my prosthesis,' and she'll say, 'But it doesn't work the same,' and I'll say 'True, but I can still do everything,' and she's like, 'Yep, you can!'"

She spoke about another time when her daughter's friend was over, and the friend was confused about the activity-specific device that was on the table — what is that? Kristi, who was wearing her realistic-looking myoelectric device, explained that she was born without an arm and what a prosthesis was. The friend looked at her own arm, looked back at Kristi, and then went on playing. ​Now, her daughter and friends are very curious about how the hand moves and think it's cool. These are likely the kind of reactions you may encounter. Remember that it's not necessary to give children too much information or answer questions they aren't asking.
Strollers
There are lots of strollers that claim to be "one-handed fold" which is helpful, though not always 100% accurate. Whether or not you wear a prosthetic device, folding strollers can be difficult and fiddly, and based on the stroller, take some precision double button pushing, which can be problematic depending on the type of prosthesis you wear. Lightweight can be very helpful. If you won't need to fold your stroller much (perhaps you keep it in the garage for walks around the neighborhood) you may want to find a stroller that you only need to steer one-handed, especially if you don't always wear a prosthesis when you're out. Unilove has a stroller that is easy to steer one-handed but, it needs two hands to fold up. Or check out Little Tikes Perfect Fit 4-in-1 Trike – it allows for easy steering as well. Keep in mind that trying to stuff a large stroller in a trunk with one hand can be difficult. A foldable wagon may be a solution — they can be pulled with one hand, and some are relatively simple to fold up. But they are heavy and may need two hands to get put in a trunk.
Bath Time
Sometimes it's easy, sometimes it's a struggle — how can toddlers resist something so much beforehand, only to be unwilling to get out later? Regardless, keeping them close may be the easiest way to wash their hair — try these enclosures or "baby dams" that can keep all the water and the toddler closer to you. You may find that your limb difference isn't so much a problem as your sore knees. Search for a "bath kneeler" online for some solutions.
Dressing and Getting Ready
If you are dressing your toddler without a prosthesis, you may find several of the items that we listed in our blog, Clothing Options for People with an Upper Limb Difference, helpful to use with your toddler's buttons or zippers. Some of those items also make it easier to dress them even with a prosthesis, as buttons can be difficult no matter the device worn.
Hair
When Kristi styles her daughter's hair, she uses her residual limb and the nubs that never grew into fingers to hold and wrap the rubber bands and the hair. She said she's glad that she never took her doctor's offer to have the small nub fingers removed because they are helpful! Check out amputee Megan Absten's video, where she puts her hair up with one hand, for ideas about how you can do this for your child.
You also might find advice from other parents helpful: Alexis Hillyard of Stump Kitchen has a video series where she talked to parents with limb differences while she herself was expecting. One set of parents she spoke with were Ashley and James Young. You can watch Ashley's video interview about parenting a young child while having a limb difference.
If you have any questions about parenting tips, you are welcome to ask them in the comment section below. Maybe a prosthesis — or a newer prosthesis — would help you on your parenting journey. If you'd like to have a complimentary consultation with our clinical team, please contact us. Your appointment can be in-person or virtual, whichever works best for you.

Thanks for reading and from one parent to another, best of luck with your toddler!
For more Arm Dynamics articles, see related resources here: