How We Help Our Patients Learn to Use Their Prosthesis
by Amber Henson, on Nov 2, 2021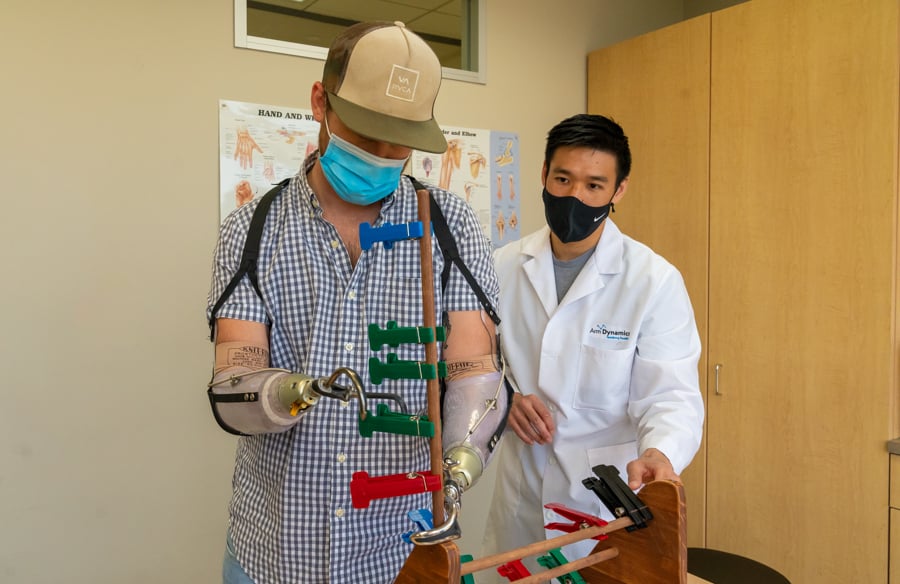 A recent trend that has emerged with the increased availability of inexpensive, consumer-grade, rapid prototyping tools (like 3D printers) is that some individuals and smaller organizations are creating their own prosthetic devices without a prosthetist's help. While we appreciate the potential of these tools and the do-it-yourself attitude that makes these endeavors possible, there are two specific problems with these DIY upper limbs. One is the fit — to achieve a proper fit, a board-certified prosthetist should be overseeing the fitting process to ensure the patient is wearing a comfortable and functional device. The other is training. Being given an upper limb prosthetic device without being given instructions how to use it means there's a likely (and unfortunate) chance that the wearer will become frustrated with their limited function, and the prosthesis will end up as a paperweight. This is why we prioritize teaching our patients how to use their device at home and at work.
At each Arm Dynamics center, our prosthetists, technicians, and in-house clinical therapy specialists work together and do their best to provide our patients with a device that looks, fits and functions optimally for them. During our Comprehensive Accelerated Fitting Process, the team works to create an "initial" prosthesis. This is created so the prosthetist and technician can see how the device works for the patient and what improvements need to be made. For some patients, the prosthetist and technicians also create a customized silicone socket. While our prosthetist works on the device, the patient begins training with our clinical therapy specialist to prepare and strengthen their residual limb and start learning about their prosthesis and what it can do for them.
As the prosthetist and technician complete the final, or "definitive" prosthesis, the clinical therapy specialist works with the patient on how to achieve their functional goals using their device. If the patient wants to be able to cook, our therapist teaches them how to adapt to kitchen tasks using their prosthesis functionally. If our patient plans on using their device at work, our therapists can go into the workplace with them and discuss best practices. If this is not a possibility, therapists will practice work tasks with them at our center, like in the picture below: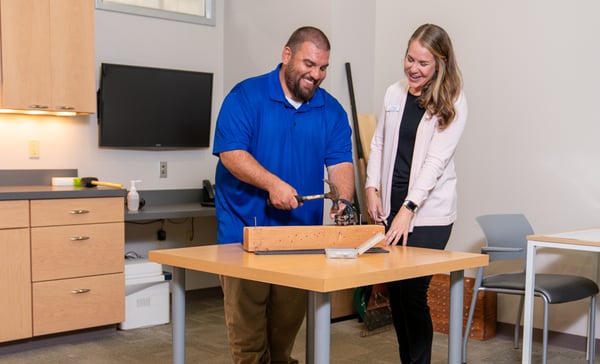 Our therapists help patients build confidence using their prosthesis in their daily lives, providing clinical support as our patients practice the tasks they will be doing in their home, for their hobbies and errands, out in the community, and in their work environment. Our therapist's aim is to support our patients in living successfully with a prosthesis. In the photo below, you can see one of our clinical therapy specialists working with his patient to use his prosthesis to do his work as an HVAC technician.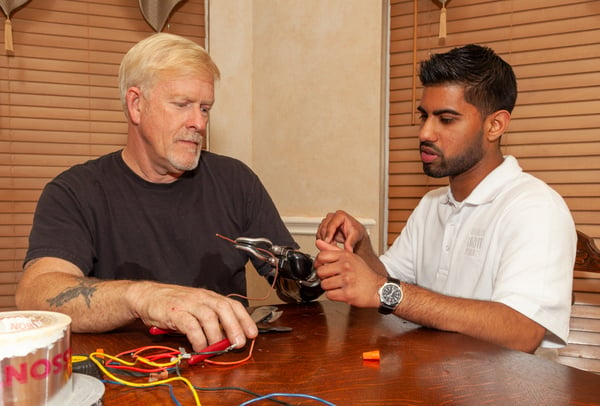 Our therapists utilize outcome measures — some that we created specifically for the upper limb amputee population — to assess progress with the prosthesis. Once the definitive prosthesis is completed, our therapists continue working with the patient to ensure they:
You can hear more about how our therapists help patients directly from one of our clinical therapy specialists:
Making sure that our patients can use their device with confidence is one of our core goals and it's the reason we have in-house clinical therapy specialists. If you're interested in setting up a consultation for yourself or a patient, please contact us. Or feel free to leave a comment in the section below! Thanks for reading.
For more Arm Dynamics articles, see related resources here: