Our Arm Dynamics Prosthetists
by Amber Henson, on Nov 9, 2021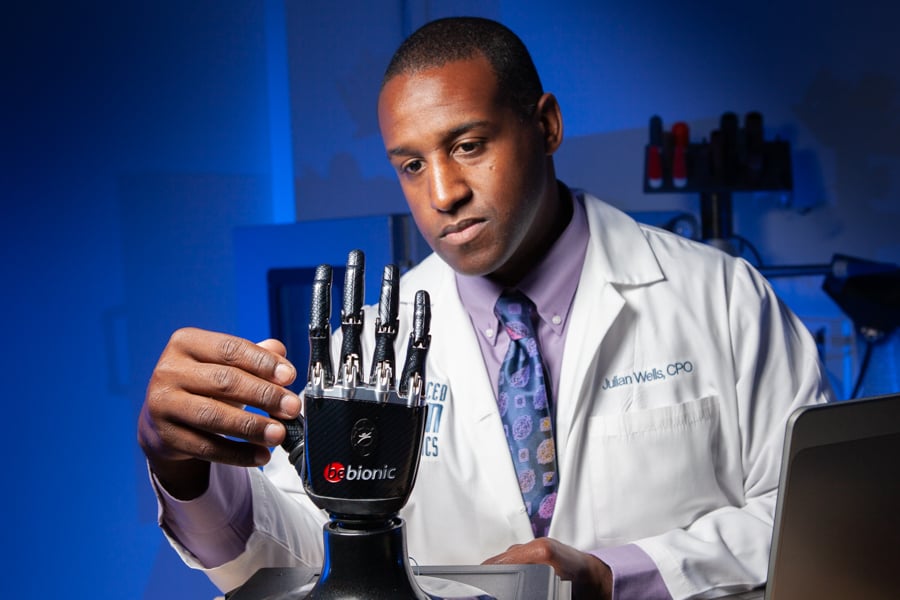 What makes our prosthetists special? Well for starters, they are qualified. All our prosthetists are certified by the American Board for Certification (ABC). In addition, most of them are Fellows of the American Academy of Orthotists and Prosthetists. We believe it's important for people with upper limb loss to receive care from a prosthetist who has a minimum of three to five years of current upper limb experience. Our prosthetists all meet that requirement and most have worked with our company for 10 years or longer. They have extensive experience in a wide variety of components and systems, which are listed in our article about tips for choosing an upper limb prosthetist.
Our prosthetists are highly trained specialists who understand the value of holistic prosthetic care and rehabilitation. Each of our centers has an in-house clinical therapy specialist who collaborates with the prosthetist on all patient care. They work side by side consulting with the patient, evaluating their needs, educating them about their options, and ultimately, fitting and perfecting their prosthesis. There are also experienced prosthetic technicians at each of our centers who help with fabricating each prosthesis. The rest of our dedicated team, including patient care coordinators, patient relationship managers, and the justification, authorization and billing team all contribute to the process of getting each patient the prosthetic devices they need.
The cumulative experience of our prosthetists leads to a positive experience for patients. Our prosthetists have not only seen and fit nearly every level of upper limb injury and upper limb difference that exists, they also have excellent relationships with their patients. That means they are an integral part of our peer support network, knowing which of our more experienced patients to connect with patients who are just beginning their prosthetic journey.
Our prosthetists participate in everyday clinical care and patient rehabilitation, and are also active in research opportunities. Many of them have written papers and journal articles about upper limb prosthetic care or are contributing to studies that further the advancement of prosthetic technology. Our patients benefit from that cutting-edge work.
Our prosthetic team is always thinking about how to integrate comfort and function in a prosthesis to achieve the best outcome for each patient. Working together, our therapists and prosthetists help patients optimize their device to make it easier to do specific tasks and reach their goals. The methods we use to implement our Comprehensive Accelerated Fitting Process™ allow our prosthetists to cycle through creating a prototype, then testing it, analyzing it and refining the device to fit their patient with a prosthesis that offers maximum comfort and functionality. This culture of collaboration and creativity is what brought us to our customized silicone sockets that work so well for many of our patients.
We love to try out new ideas with practical prostheses, activity-specific and creative devices. Below is a video that showcases some of our patients and how they use their devices from sunup to sundown:
Want to learn more about our prosthetists? You can read about each of them on our Clinical Team page. If you'd like to meet with a prosthetist to see how they can help you, please contact us. You are also welcome to comment using the form below. Thanks for your interest in our uniquely talented prosthetic team!
For more information, see related articles here: