Why Do We Have Therapists On-Site at Each of Our Centers?
by Amber Henson, on Apr 22, 2021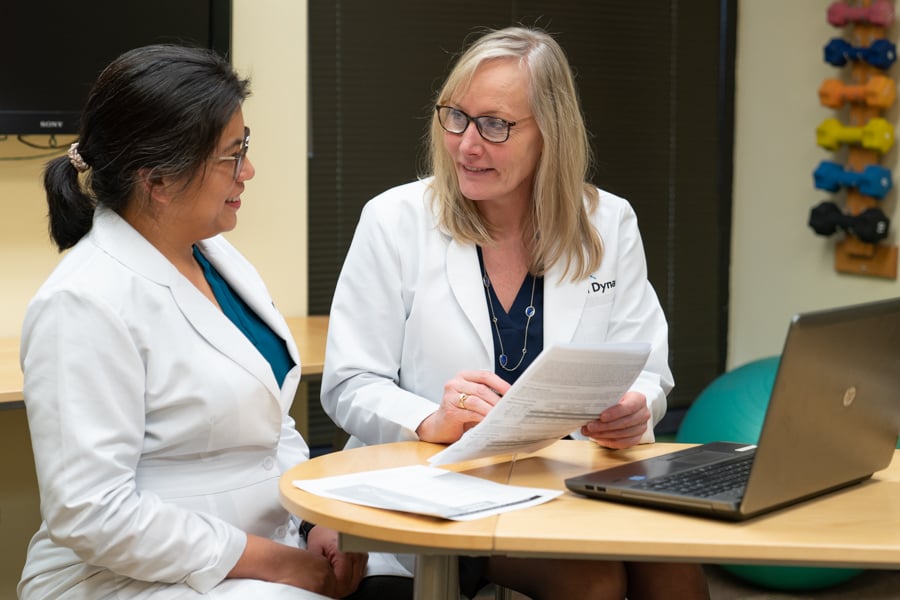 April is Occupational Therapy Month and we're happy to celebrate the therapists at each of our centers. We value our therapists — we know that they are an integral part of what makes Arm Dynamics different and one of the ways that we Redefine Possibility. There are very few prosthetic care centers that employ full-time occupational or physical therapists. But we know that having a therapist work closely with each prosthetist, and walk our patients through every step of their prosthetic rehabilitation, is what leads our patients to be so successful.
Our on-site therapists work exclusively with upper limb loss patients to support the fitting process, provide training that's relevant to each person's goals, mitigate pain and help them shift into life as capable, independent prosthesis users. Since they are on-site, that means they are always going to be there, during every appointment with each patient. Patients never need to worry about scheduling a therapy or prosthetic training appointment elsewhere. Their needs are taken care of seamlessly under one roof. That's a big time-saver! In addition, the saying that "two heads are better than one" is very true when having two upper limb specialists—a prosthetist and a therapist—working together. Moreover, the therapists at our five centers support one another by communicating ideas and resources — they even help find peer support for each other's patients.
In addition, our staff of full-time therapists are essential to our Comprehensive Accelerated Fitting Process. Because they are available and focused solely on patient care, they're able to teach our patients how to use their "initial" prosthesis and collaborate with our prosthetic specialist about modifications that can improve function. Once the "definitive" or final prosthesis has been created, our therapist is still there, making sure the patient knows how to use, manipulate, and don and doff the device; is ready to follow a wear schedule; learns about how to care for the skin of their residual limb; and can use their device to perform their Activities of Daily Living (ADLs).
Arm Dynamics also focuses on lifelong care — so our therapists, together with our patient care coordinators, check in with every patient immediately after the initial fitting and regularly after the definitive fitting. We want to accompany each patient on their journey — maybe that patient needs some repairs or maintenance due to regular use, or perhaps a new device? We're there! Do they have a new hobby or goal and need some help learning or adapting? We're there!
All of our therapists love the relationships they create with their patients and enjoy working closely with both our prosthetists and technicians to make sure that patients have the tools and knowledge they need to thrive. Want to learn more about our therapists? Check out our page devoted to them — it goes into further detail about all the different types of care they provide throughout the entire prosthetic fitting process. You can learn more about our therapists on each of our center pages — just click through to the center that you want to learn more about. If you're interested in setting up a consultation for yourself or a patient, please contact us. Or feel free to leave a comment in the section below! Thanks for learning with us today.
For more information, see related Arm Dynamics articles here: