Hobbies When You Have an Upper Limb Difference
by Amber Henson, on Jun 7, 2022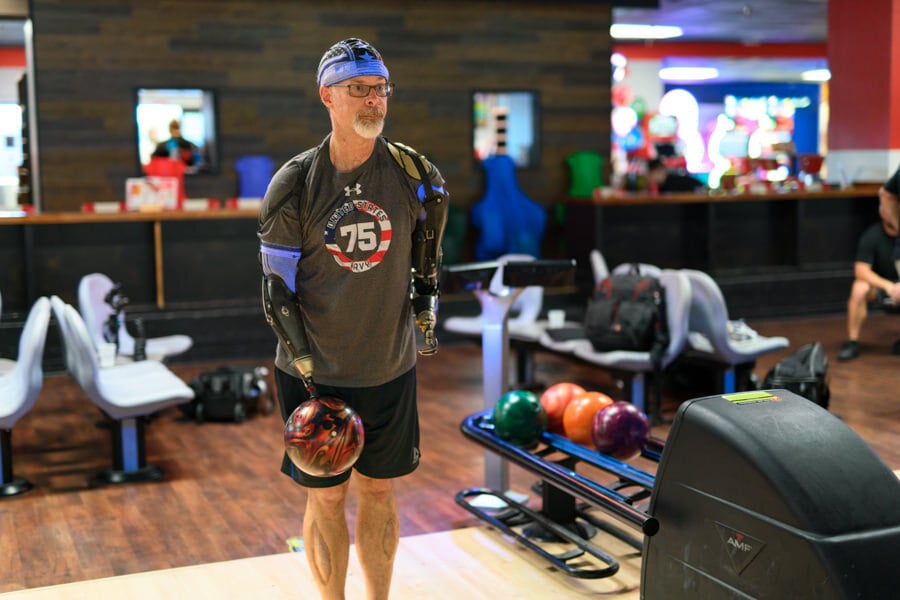 Many people find it helpful to have a prosthesis to help them with their everyday work and home lives. A prosthetic device can help people excel at their job, get back to work and keep them from experiencing overuse issues. At home, people use their devices to cook, clean and perform their Activities of Daily Living (ADLs). But as everyone knows, all work and no play make Jack a dull boy.
There are two different ways a prosthesis can be helpful for a hobby. Either the prosthesis that the patient wears everyday can be employed while the user takes part in their pastime — or the user can wear an activity-specific device that allows them to perform the task without any worry about damaging their device (or themselves!).
An example of the first way of participating in a hobby is below. Here, our patient Sam is using his bebionic hand to fish on a riverbank: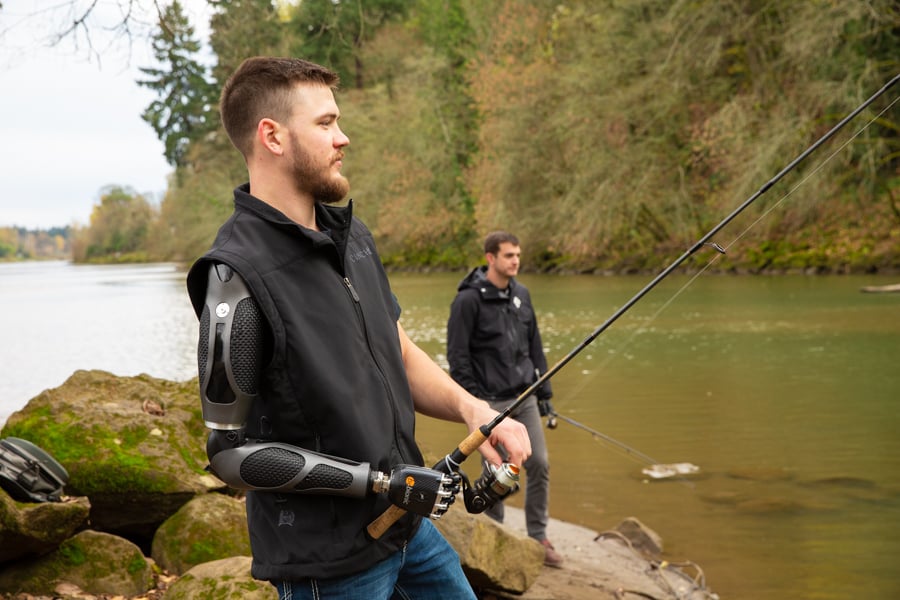 Because Sam doesn't plan on getting his prosthesis wet, he doesn't need an activity-specific device for this occasion. Which isn't to say Sam doesn't have an activity-specific device:
Sam uses his device for hunting, fishing (on a boat), and riding his snowmobile and ATV.
It's up to you, your prosthetist and your clinical therapy specialist to discuss which hobbies you want to return to after an amputation or start for the first time if you have either a congenital limb difference or have had an amputation. Our clinical therapy specialists can also recommend adaptive tools to help with a hobby alongside a person's prosthesis. Check out some of the hobbies that our patients enjoy, in alphabetical order:
Bowling
We're not sure what it is about our bilateral limb different patients and bowling, but that is something many of them enjoy! You can read all about our bowling patients in our article Bowling When You Have an Upper Limb Difference.
Building and DIY
Yes, it is possible to weld. Yes, it is possible to run a skill saw (even as a bilateral amputee). Yes, it is possible to run a giant chainsaw. Learn more in our article Heavy-Duty Activities When You Have an Upper Limb Difference.
Cooking and Baking
Our patient Eduardo Garcia has a cooking show on the Magnolia Network, though in the post above he's simply making some holiday treats with his sister. You may not be ready for primetime, but there's no reason why you can't cook and bake using the tools that work for you. You can learn all sorts of tips and tricks in our articles Cooking with an Upper Limb Prosthesis, Kitchen Tips for People with an Upper Limb Difference: Cutting and Chopping, Baking for People with an Upper Limb Difference and Kitchen Organization and Set Up for People with an Upper Limb Difference.
Hunting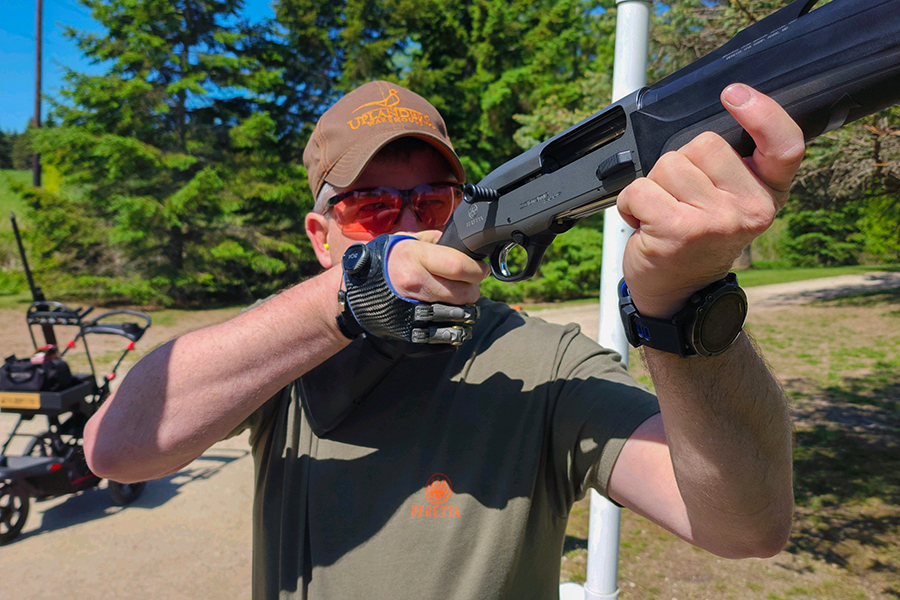 You can learn all about the ways our patients have used their everyday devices or activity-specific devices while hunting in our article Hunting with an Upper Limb Prosthesis.
Music
Drumming, playing the guitar, even the concertina — you can watch it all in our article Rock On! Being a Musician with a Limb Difference.
Pool
Playing pool can be accomplished with or without an activity-specific device, depending on one's level of amputation and level of interest. Learn more in our article "Playing Pool with an Upper Limb Prosthesis."
Swimming
Our patient Lizzi Smith, swimmer and a US Paralympic silver medalist, needed a device to train with in the pool. Our Southwest center provided her with a swimming device, and a prosthesis to help her work out at the gym.
Video Gaming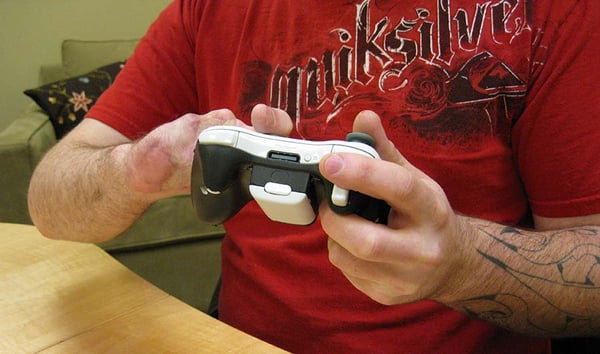 Being a gamer with a limb difference comes down to three factors: adapting the controller, picking the right video game system and using a prosthesis to assist playing. You can learn more in our article Video Gaming with a Limb Difference.
Weightlifting and Working Out
Getting into or getting back into the gym is one of the questions we are asked about most. Learn more in our article, Weightlifting with an Upper Limb Prosthesis.
Yardwork and Gardening
Because myoelectric devices generally don't handle getting wet or dirty very well, a body-powered device might be your best choice. Learn more in our two articles, Yardwork with a Prosthesis and Gardening with a Prosthesis.
Yoga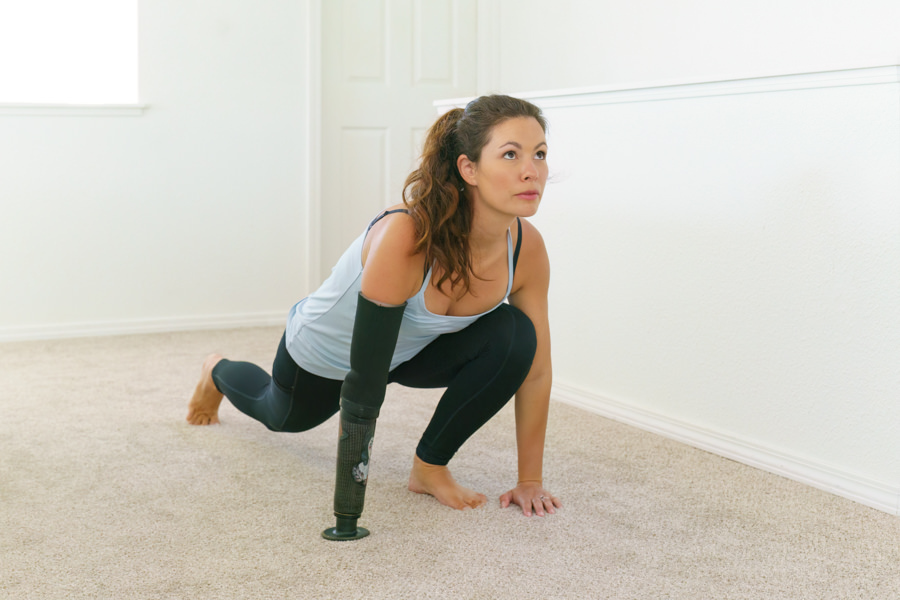 Yoga has many health benefits, especially for people with an upper limb difference. You can read about our yoga practicing patients in this article from our own Arm Dynamics writer who also happens to be a yoga instructor.
What hobby would you like to get into or back into? Our prosthetists and clinical therapy specialists have helped thousands of our patients figure out how to do what makes them happy. Want to learn how we can help? Schedule a complimentary consultation with us, either in person or via video. Do you have any advice for your peers regarding hobbies? Please comment below. Thanks for reading!
For more information, see related Arm Dynamics articles here: