Why Our Clinical Therapy Specialists are the Best
by Amber Henson, on Apr 12, 2022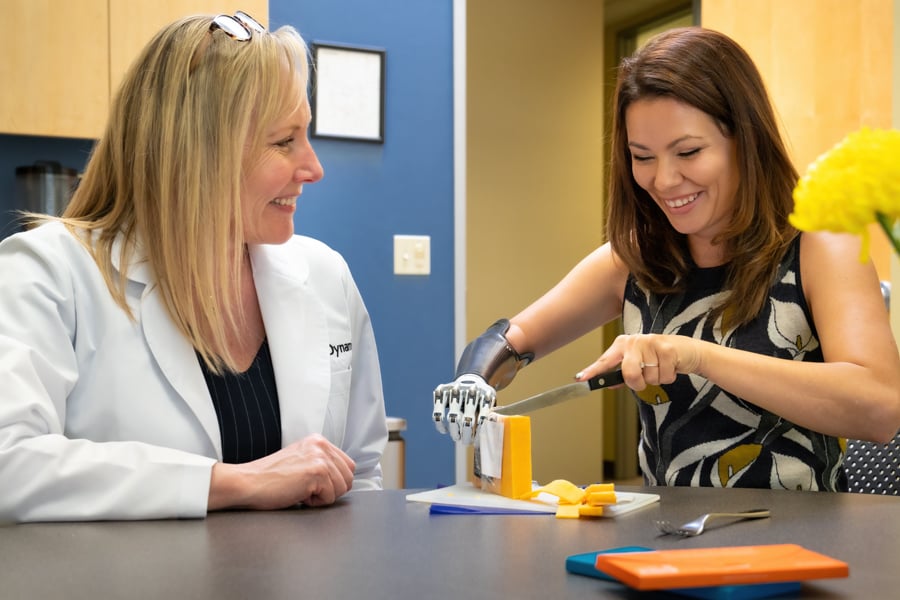 It's April and that means it's Occupational Therapy (OT) Month. It's also Limb Loss and Limb Difference Awareness Month so it's an especially great time to speak with all our therapists, both occupational and physical, about why they love their jobs and how they help their patients. It's clear that each of them wants to see their patients thrive – and they each have the skill set and passion to make that happen. That's what makes them the best in the biz – let us show you:
Patient care is what gets Carina Hill (pictured below) up in the morning. She's an OT at our center in Dallas. "That's why I entered OT work," she told us. "I like problem solving. That's one of my favorite things to do. A patient may present a problem to me, and I have the luxury of the time and the space to figure it out." Lauren Trent, our OT in Kansas City, agreed: "I feel super fortunate that every day I work with a patient, I'm helping them change their life for the better." Lauren continued, "Everything that we do is to help the patient (especially those who have had a traumatic amputation) grow more independent, feel more self-sufficient, and get them back to the life they probably thought they could never have again after their accident."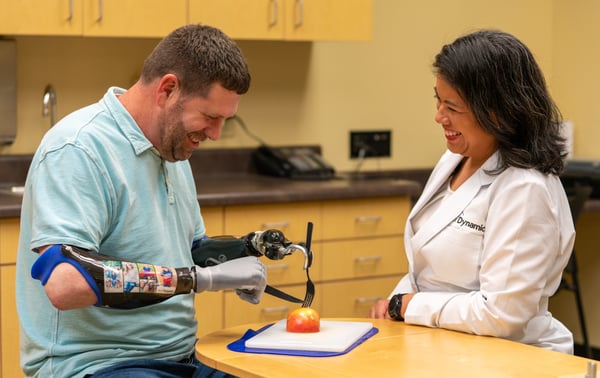 Jennifer Peterson (pictured below), the physical therapist at our Minneapolis center, couldn't feel luckier. "Many of our patients with traumatic amputations go through the grieving process. But oftentimes, after we educate them on their prosthetic options, we can see a change in their demeanor as they start to have hope that prosthetic devices will be able to help them function in life." Jennifer went on: "Each day that we're working with patients and we're watching them improve, we're seeing a change in how they feel. It is so gratifying to be able to help people deal with their amputation and get back out into their life."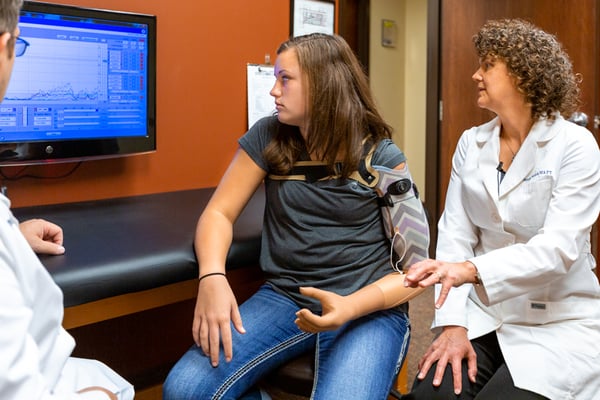 In addition, there's the option to help adults with congenital limb differences do things they never may have tried before. Elyssa Vizzier, the OT at our Philadelphia center (pictured below, on the right) said, "I had a patient who was being fit with an activity-specific prosthesis, and after seeing all the terminal device options, it opened her eyes to a world of possibilities and activities she could participate in. For example, she had never thought of trying to jump rope before, but after seeing there was a prosthetic attachment option, she was able to try that new activity for the first time.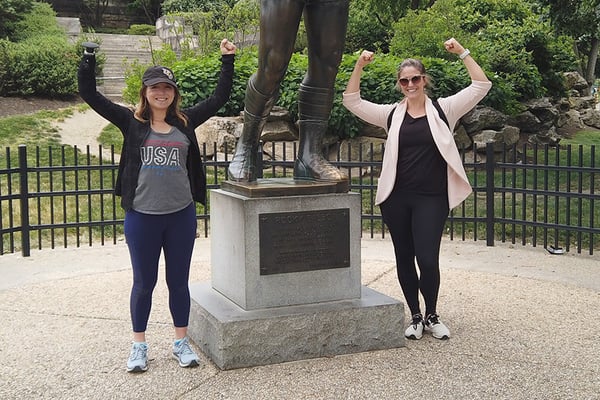 Elyssa and another one of our therapists, Kerstin Baun (pictured at the top), the OT at our Portland center, mentioned how much the Arm Dynamics care model allows them to do their best work. Kerstin: "Many clinics may say that the patient comes first and all else is second, but at Arm Dynamics, that is absolutely true. The cornerstone of our success is making sure our patients receive the very best care – that they are fit with comfortable and functional prosthetic devices and know how to use them for all the activities that matter to them." Elyssa added: "Our care model is near and dear to my heart. It allows me to focus on treating the patient and spending the necessary time with them to help them reach their goals."
To us, though, patient care isn't just about putting in the work with our patients each day – it's larger than that. We also push the limits of upper limb prosthetic rehabilitation. We do that through research, writing journal articles, and creating and refining our outcome measures. "Our research drives the field, because we are the experts in upper limb prosthetic rehabilitation," Lauren explained. "Being really involved in all the research aspects – we get to drive where our care process goes and find those things that are important, that support our patients and support authorization of new prosthetics." Lauren, who you can see below, finished by saying: "Working here is such a unique opportunity to not only affect people's lives but to also affect the field."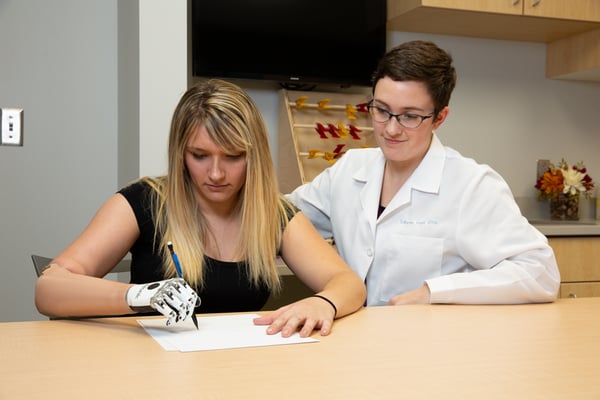 We cherish each of our therapists and welcome any opportunity to celebrate them. Our team knows that they are one of the main reasons why our patients are so successful – and our therapists love their Arm Dynamics team right back! "There are so many wonderful people working at Arm Dynamics who are here for all the right reasons, taking care of people with upper limb differences," Kerstin declared. "It always comes back to that."
If you would like to experience how our therapists Redefine Possibility, please contact us for a complimentary consultation, either in-person or via video chat. Additionally, please feel free to leave any comments below. Thanks for reading and Happy OT Month!
For more information, see related Arm Dynamics articles here: