Getting Back to Work After an Upper Limb Amputation
by Amber Henson, on Mar 23, 2021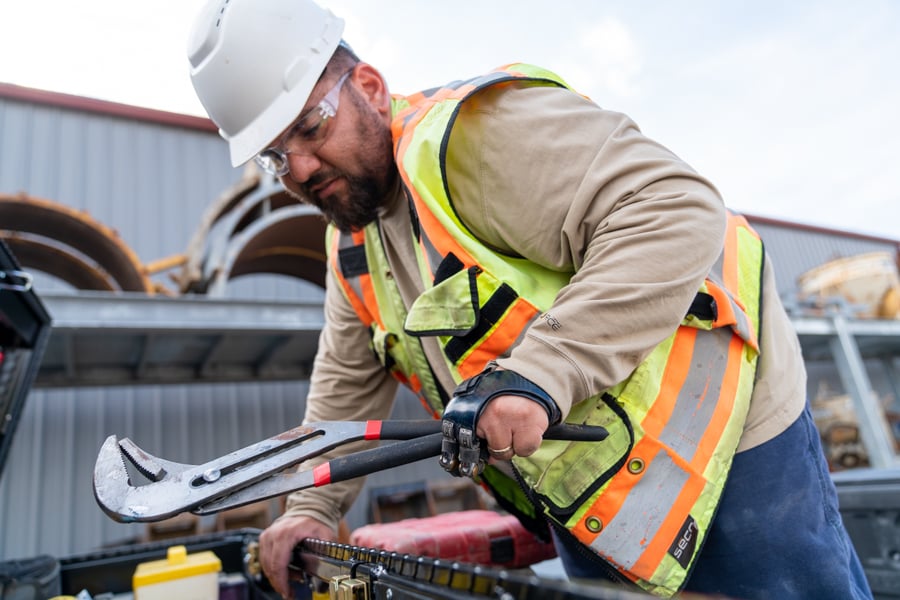 After a patient has experienced an amputation and the healing process has begun, there are many factors to consider when it comes to returning to work. Are they ready to go back to work? Do they want to? Can they return to their previous job or will they need to find a new profession — or a new role at the same company? If the patient was injured at work, what needs to happen for them to be able to go back to their job, if that's possible?
Take our patient Mark Betters (pictured above). Mark, a construction superintendent, was working on a job site in 2017 when part of his left hand was crushed in an accident. His thumb, index finger and middle finger had to be amputated. Mark chose the option of having a toe-to-thumb transfer, where his big toe was moved to his hand to take the place of his thumb.
What concerned Mark was that his job required, on occasion, carrying heavy objects. He wanted to know if there were prosthetic fingers that could handle that kind of weight and stand up to the rugged demands of working in construction and driving heavy machinery. The answer was Point Designs digits. Once he began his fitting process, our therapist worked with him to find out what his particular goals were beyond heavy lifting, such as holding a nail while hammering or safely operating equipment, so that she could work with him on those skills. You can watch Mark's journey in the Patient Success Stories part of our site.
Eduardo Garcia lost his left hand after a run-in with an exposed electrical wire. A chef by trade, he wondered if there even were amputee chefs. He knows the answer now because he is one, and owner of Montana Mex, a food brand that makes spices and sauces.
What kind of prosthetic device does a chef need? A heavy-duty one. Eduardo has a body-powered hook. With it, he can stabilize food for cutting and chopping and lift coolers and pots using both his hook and his sound hand. He can stabilize bowls, pots, pans and more with his hook, making his work possible. Because his prosthetic device is so rugged, he's not only great in the kitchen, but he can also continue what his specialty was before his injury: preparing a gourmet meal over a campfire with freshly foraged and hunted ingredients. You can watch Eduardo in the kitchen in the video below, and out foraging in his success story video. You can also learn more about Eduardo in the feature-length documentary about his survival and rehabilitation, "Charged." In addition, Eduardo has a show on the Magnolia Network called "Big Sky Kitchen."
So those are two fellows who need rugged devices for their work. But what about a job that requires a gentler touch? Lynn Whitehead was a children's art teacher before she had partial amputations on both her legs, lost one of her hands and most of the fingers on her other hand. After rehabilitation and being fit with prosthetic legs and a myoelectric device for her arm, she returned to teaching — first art, then kindergarten. You can watch Lynn talk about her love of teaching and her journey back to the classroom in the video below:
What makes us particularly successful about getting our patients back to work? As part of our outcome measures, we track our patients' ability to return to work, whether they changed jobs, and what factors have impacted a change in work status. We use that data to inform patient care going forward and can provide data to collaborators in our patients' care, including insurers.
If you've lost all or part of an upper limb, what would you like to get back to? Or what new career path would you like to explore? During all Arm Dynamics consultations, we focus on the goals of our patients, both professional or personal, and map out how we can help that patient achieve those goals with our prosthetic care. Would you like a consultation? Not a problem! Just contact us. Or if you would like to share your own experience returning to work, please do so in the comment section below! Thanks for learning more about how prosthetic devices can get individuals back to work.
For more Arm Dynamics articles, see related resources here: