Activities of Daily Living (ADLs) for People with an Upper Limb Difference
by Amber Henson, on Feb 14, 2023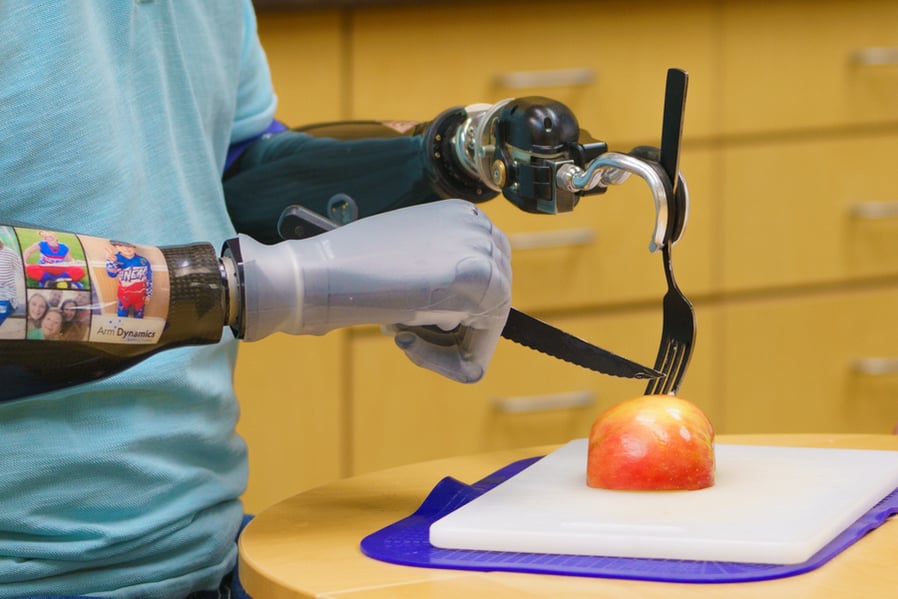 While some activities of daily living (ADLs) are no trouble for a person with an upper limb difference, other ADLs can prove more difficult, depending on the level of limb difference. ADLs, according to the Centers for Medicare & Medicaid Services, are "activities related to personal care, including bathing or showering, dressing, getting in and out of bed or a chair, walking, using the toilet, and eating." This article provides information and has links to our other articles that explain how to use prostheses, adaptive equipment, and tricks to accomplish those activities.
Bathroom Related: Bathing/Showering, Grooming and Using the Toilet
Showering can prove difficult — how do you hold the shampoo with one hand and pour it into another if you only have one hand? Check out the bathroom retrofitting and the teeth brushing, face washing and hair styling articles for answers to your questions about showering and grooming. For individuals with a bilateral limb difference, our Bathroom Hacks for People with a Bilateral Limb Difference article provides information for more extensive retrofits and adaptations to allow for independent showering and grooming.
As for using the toilet, people with one sound hand may find the process a little frustrating, but doable. There is adaptive equipment, though, that might make it easier. An example is the Freedomwand® Toilet Tissue Aid, which is a device that can help with wiping, as well as bathing/showering, and shaving. If you are a bilateral amputee, a bidet may make toileting easier for you — there are bidet attachments you can add to an existing toilet. For female bilateral amputees, there are prosthetic and adaptive options that can help with feminine hygiene products. We have experience helping patients with these issues and encourage you to speak with your clinical therapy specialist and prosthetist to ask for help coming up with a solution.
Dressing
Buttons, zippers and shoelaces can all be a pain for people when they're not wearing a prosthesis, and sometimes even when they are. Check out our article about adaptive clothing and other helpful tools for ideas and tips.
Mobility
Getting in and out of bed, pushing up to standing from a seated position, and transferring from one surface to another when missing a portion of an upper limb, or two upper limbs, can be a challenge. Being fitted with a prosthesis can provide upper limb length and grip to help with those activities. A bed assist handle may make it easier to roll over and get out of bed. If you lack leg strength or have balance issues, a bed assist handle may also help you with standing up. A SuperPole System can provide similar assistance and also help with transferring from the bed to a chair. Chairs with arm rests provide a surface to push on with a residual limb or a prosthesis. If getting out of a car is difficult, a Metro Car Handle may help!
Walking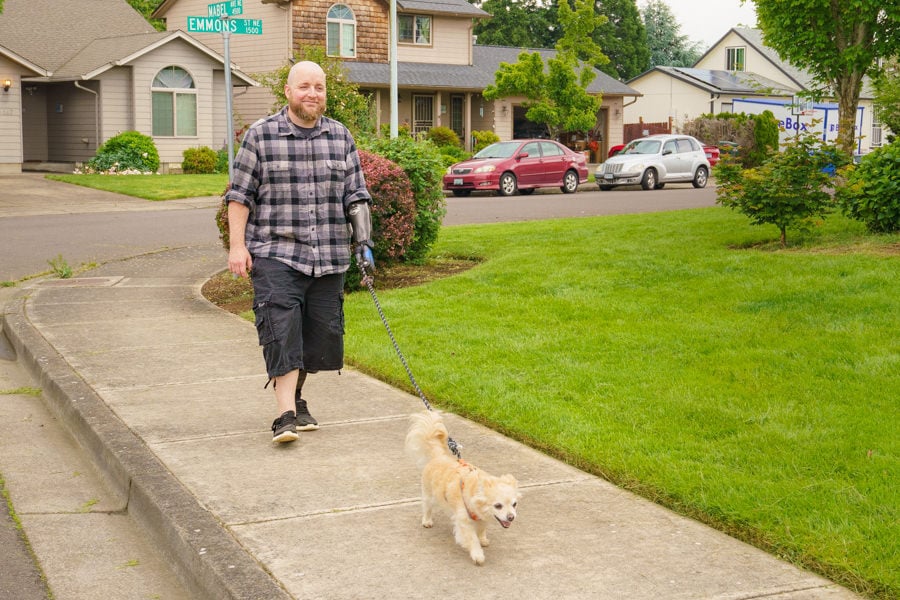 People with a higher-level limb difference, like above-elbow or just below the shoulder, often report feeling off balance while walking.
For example our patient Claudia Castellanos, an above-elbow amputee, has noticed that she feels unbalanced when she's not wearing her prosthesis. However, once she dons her comfortable, functional prosthesis, her posture and balance are both improved. If walking is an issue because of balance or a lower limb injury, people often use a cane, crutches or a walker. But those devices are difficult to use if you don't have two hands. Luckily there are walking aids that can remedy the situation. Platform wheeled walkers or M+D Crutches provide a platform where you can rest your residual limb or prosthesis to help maintain your balance when walking.
Eating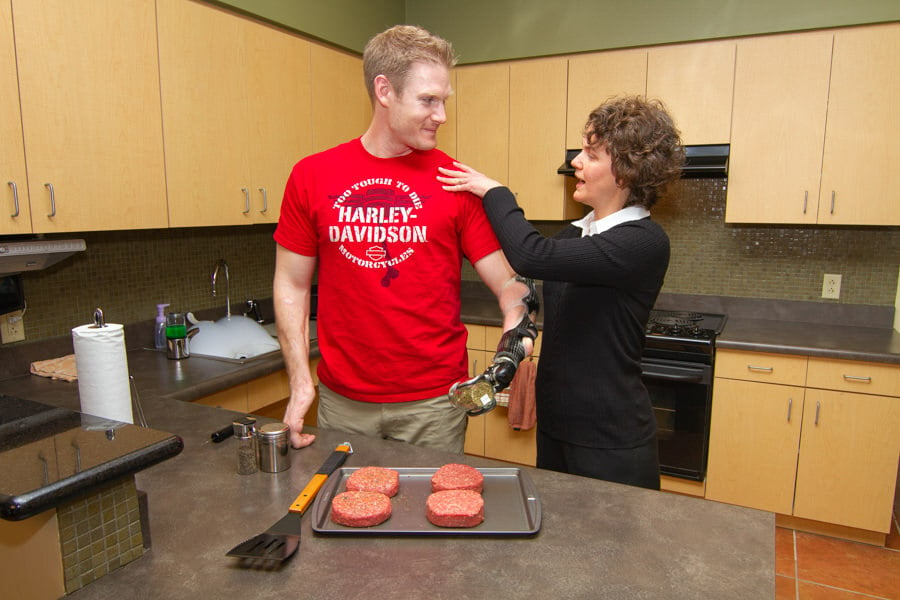 Of course, you can eat with one hand, and you can eat using a prosthesis, but there are some tools out there that can make the whole process easier. Learn about those tools and some tips in our article, "Eating When You Have an Upper Limb Difference."
Overall, it may be helpful to consider how you can change your home environment to make life a little easier. Please read our article, "Using Universal Design in a Home: Remodeling for People with a Limb Difference", for some good pointers!
There are some activities that you may need to do every day that aren't listed above. You can check out our other articles on driving, cooking and exercising for more tips.
Do you have any tips for the above activities that you'd like to share with your peers? Please comment below. If you are looking for some individualized help for how to perform your ADLs independently, please contact us. We hope you have found this article helpful.