Featured Patient: Austin Anderson
by Amber Henson, on Jun 15, 2020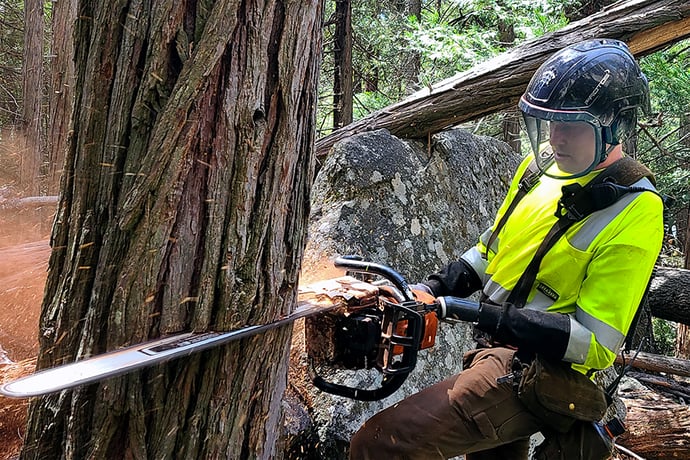 In 2017, Austin had obtained his dream job: a tree faller in Yosemite National Park, one of only two full-time tree fallers on staff. Shortly after getting that position, a friend asked Austin to help him trim a tree. To help his friend, Austin needed to climb into the tree with a chainsaw. And then an accident happened.
Austin partially severed his left arm in the accident. Several people showed up to help, but no one could figure out how to get Austin down out of the tree. After an hour and a half, during which Austin was in danger of losing his life due to his injury, an onlooker realized if action wasn't taken soon, Austin might not make it. This person climbed up into the tree himself and was able to successfully get Austin down.
Unfortunately, by the time Austin arrived at the hospital, an above-elbow amputation was necessary to save his life.
Austin was told at the hospital that his amputated arm would never be able to run a chainsaw again. "For me to hear that right after losing my arm really made my emotional recovery harder," Austin told us in an interview.
After some recovery, Austin met with two different prosthetists (not Arm Dynamics prosthetists) and shared with them his goal of returning to his dream job as a tree faller. Both prosthetists told him that they could not make him a prosthetic device that would achieve his goal.
But the Arm Dynamics clinical team could.
The prototype featured in the video above isn't actually the one that he ended up with as his definitive (final) prosthesis, but it shows the functionality, including the functionality of his prosthetic elbow. The custom, activity-specific attachment on his body-powered device has a lever that allows him to quickly disengage from his saw, if needed. Because each of our clinical team members are upper limb specialists, there was never a doubt in their minds that they could get Austin back to work.
We asked Austin to tell us what would have been helpful to know right after his accident: "One thing that I would say — it would have been helpful to know that anything can be done with a tool like a prosthetic device. It can allow you to do anything that you set your mind to. Now I'm capable of safely running a chainsaw to continue to do what I love. This is only because I had a team who supported me and to create the right prosthesis for me. My advice: Always stay positive!"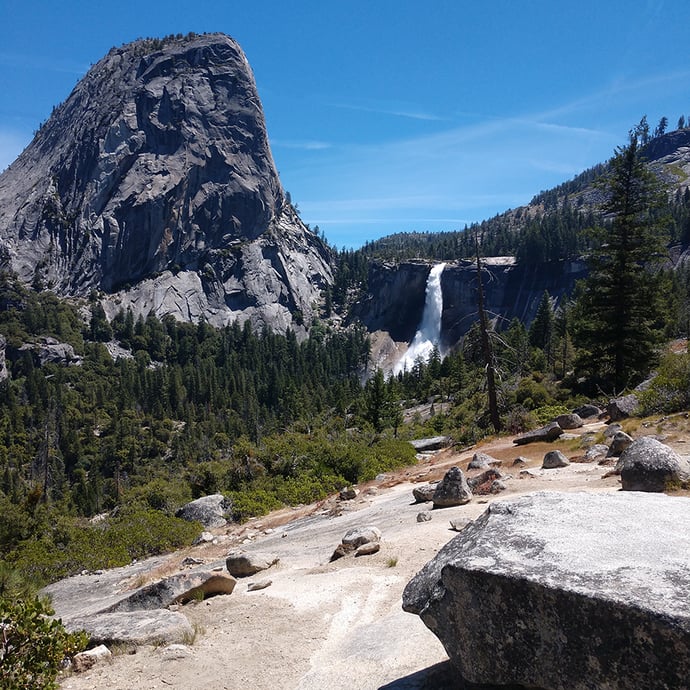 Austin's "office."
Austin also uses his body-powered device around the small farm that he, his wife, and his daughter live on. The farm is five acres and his V2P terminal device (pictured below) helps him with feeding animals, landscape work, handling tools, lifting hay bales and more. When we asked Austin about how he uses his prosthetic device inside the house, he answered: "Honestly, when I am inside at home, I will usually take my device off and allow my arm to take a break. I do, however, use it to move furniture, cut veggies, even change a diaper!"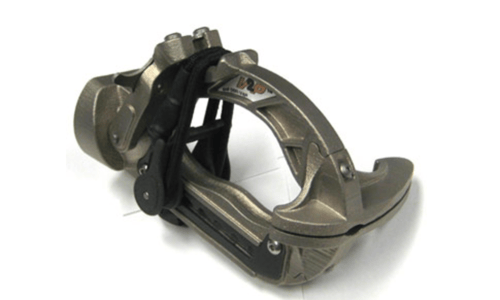 The V2P Device. Image courtesy of ToughwarePRX.com
"Limitations are a mindset and having my prosthetic device allows me to manipulate anything, to a certain extent. It is harder and takes longer to do things, but one day at a time and it can be done."
In some exciting news, Austin and his wife are expecting their second child. Congratulations to them!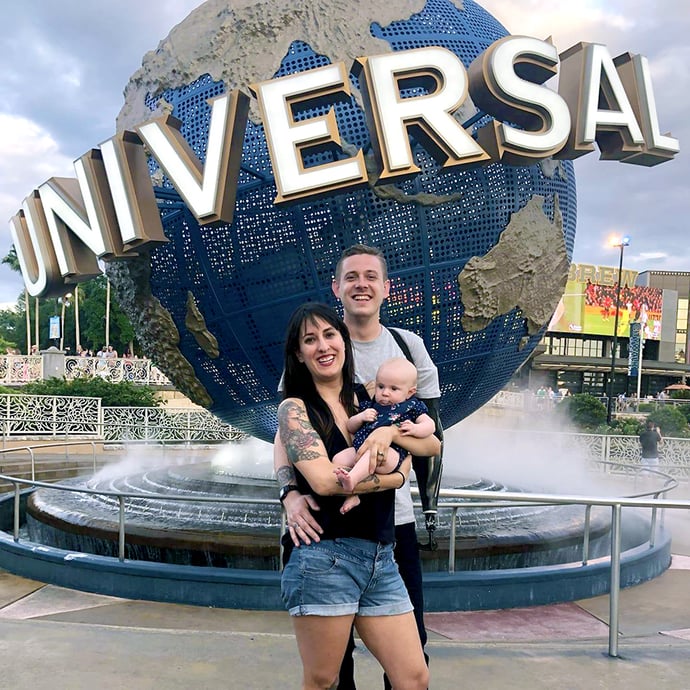 Austin with his wife and daughter on vacation in 2019.
While Austin lives and works in California, he found the supportive team that he needed to achieve his goal by traveling to our Northwest Center in Portland, OR. We're so glad that he made the choice to travel for his upper limb care.
We hope you enjoyed reading about Austin's success. What is your success story? Please tell us below in the comments.
You can find more related articles here: