Accomplishing More with Prosthetic Elbows
by Amber Henson, on Sep 6, 2022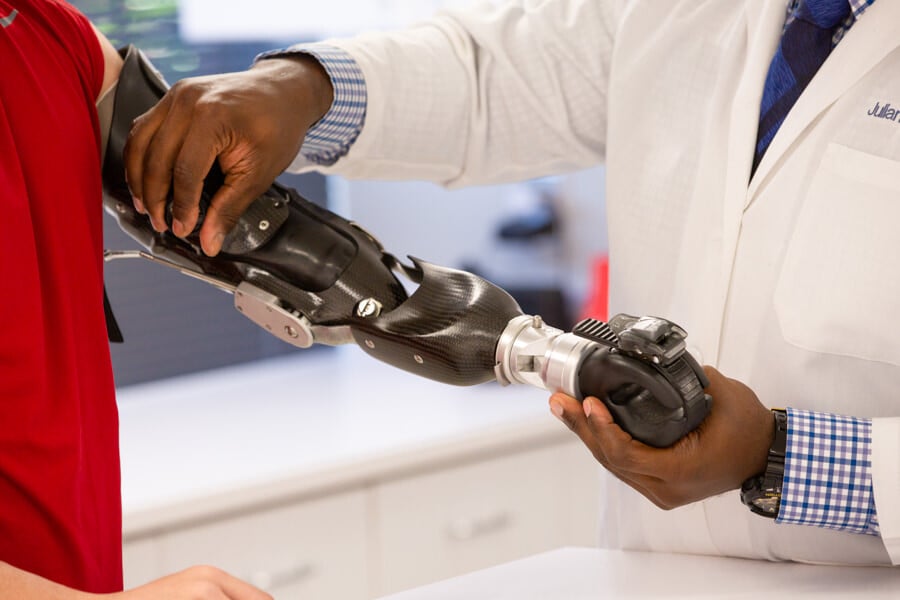 People with above the elbow limb loss or difference face unique challenges. A prosthetic elbow makes it easier for them to do their daily activities since the purpose of the elbow is to pre-position the terminal device in space. A prosthetist, preferably an upper limb specialist, can help their patients determine which type of elbow is best suited for their daily tasks. Options for elbow joints include passive, activity-specific, body-powered and electric, and there are also elbows that are sized for children.
When a person has strength, a longer residual limb, and good range of motion in the shoulder, a body-powered elbow can often give them more function. Our patient Wendi Parker finds that her elbow joint is the best thing to use for one of her daily work tasks at Trader Joe's. "Instead of holding a broom with my hand, it works better for me to slide it through the elbow hinge. It's easier to sweep and I can use my right hand to hold the dustpan." Wendi doesn't even have to remove her V2P terminal device.
Sherri Whittaker, a patient in our Minneapolis center, reaped benefits from a myoelectric elbow. Her elbow made it easy to transition from her scooter to her office job to her sewing hobby. While Sherri has since switched to a hybrid system, her myoelectric elbow met her needs for many years — you can watch her using it in this video:
Some above elbow patients may benefit from Targeted Muscle Reinnervation, which makes it easier for them to use a myoelectric elbow. You can read more in our article, Introduction to Targeted Muscle Reinnervation (TMR), and watch Kate Jorgenson, our patient who received TMR surgery, use her prosthesis in this video:
Max Okun uses an activity-specific device so that he can work out his whole body safely, without having to worry about overuse issues. His prosthetic elbow is a locking hinge that mounts on the outside of his socket to accommodate a long residual limb and can be locked into different positions or left unlocked to allow him to exercise.
Michael Kacer's activity-specific device allows him to go biking. Michael is a retired US Army Staff Sergeant, and his above the elbow device allows him to stay fit and enjoy his hobbies:
There are also hybrid options available — body-powered elbows don't necessarily need to be paired with a body-powered terminal device. Prostheses that have body-powered elbows but myoelectric terminal devices can can save weight as well as make it easier for the person to control their device. This can be especially important for people of small stature or those looking to keep the weight of the whole device as low as possible.
If you, or someone you love, has an above the elbow upper limb difference, would a prosthesis help with daily tasks? Please contact us. We would love to learn more about you and how we can help you. Do you use a prosthetic elbow? Please share your experience with your peers in the comments below. Thank you for reading!
For more information, see related Arm Dynamics articles here: