Featured Patient: Lloyd Keith
by Sherri Edge, on Nov 18, 2019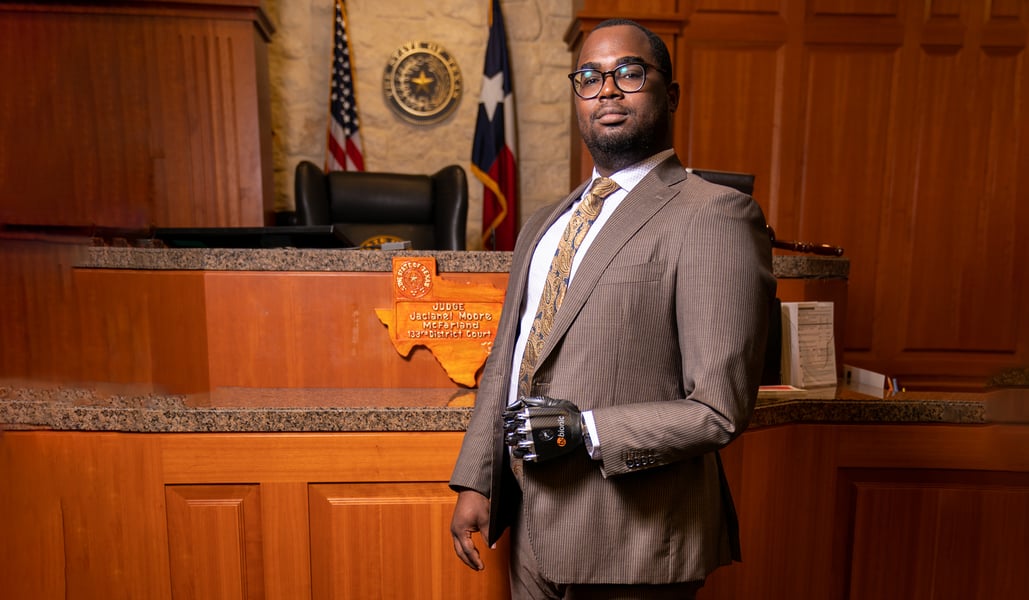 In England, it's a tradition for people to give their house a name. Boats and ships around the world are christened with a name. And in that same spirit, Lloyd Keith decided it was only right to name his prosthetic arm.
"I call her Skynet because she looks like 'The Terminator' hand, and Skynet was the AI system in that movie," he said. "I wear a bebionic hand and it looks very cool and futuristic."
In 2016, just two years into his legal career as an assistant district attorney in Houston, Lloyd took a weekend trip to Moab, Utah, with some friends from college. He was driving an ATV that flipped over, and the next thing he remembered, his head was in the dirt, the ATV was on top of him and he was pretty sure he'd broken his left arm. In that moment, he didn't realize that his arm was barely connected to his body and that his friends were taking turns applying pressure to keep him from bleeding out.
After a medical flight and surgery, Lloyd woke up in a hospital room and came to the realization that his arm had been amputated above the elbow. His first reaction was shock, but his friends were still there to reassure him and later, his mom arrived.
"You know, there's a particular body image that you've lived with for 28 years and then overnight it changes. So there's an adjustment period," he said.
While he was at in-patient rehabilitation, Lloyd met with two general prosthetists before he was introduced to Scott Spring, the clinical manager at Arm Dynamics Houston center.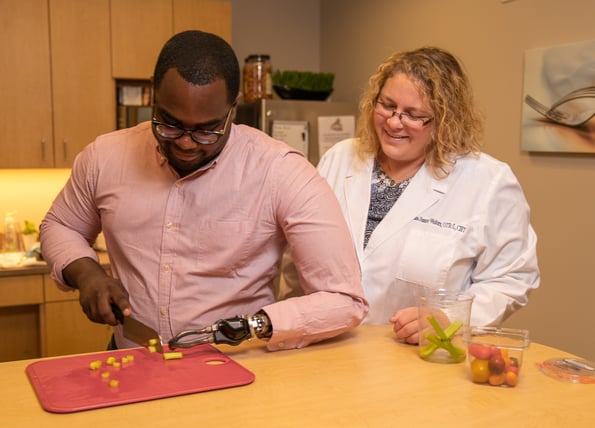 "What I noticed was that a lot of other prosthetists didn't seem as knowledgeable about upper limb amputations," he said. "So that's what really drew me to Scott. And when I was able to go to their center and meet the whole team, that's what won me over. It was nice having your therapist and the person who's creating your prosthesis be under the same roof, working together to fine-tune things. I think it's invaluable to have people who just focus on upper limb."
Fast forward to 2019, and Lloyd's been wearing his bebionic hand – AKA Skynet – for more than three years. He also has an electronic terminal device (ETD) that he can switch to when he's working on projects at home or he needs more precision or grip strength. In the summer of 2018, he was fit with an activity-specific prosthesis with attachments to use at the gym and to ride his bike. Both of his prostheses have a burnt-orange Texas Longhorns emblem front and center.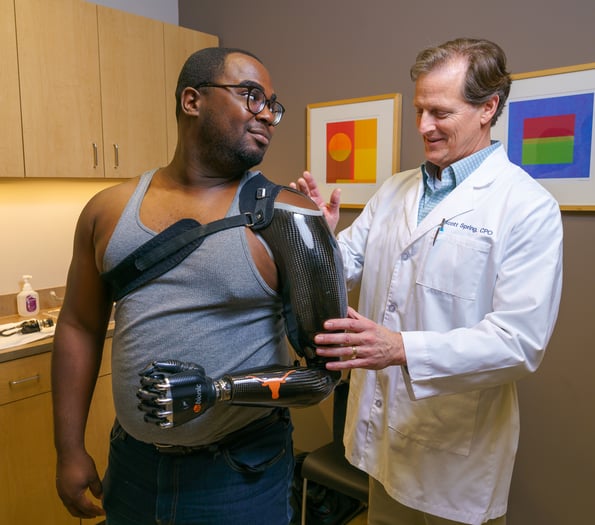 "When Scott brought up the idea of customizing my prosthesis, I got excited. Austin is where I went to law school and it's just one of my favorite places ever. That emblem is a reflection of who I am."
He may be a Texan at heart, but these days, Lloyd and Skynet are living in California, working toward their next big accomplishment: a master's degree in business at USC.
Watch the video below to see Lloyd using his prosthetic devices. His myoelectric prosthesis is featured at the beginning, and about halfway through, he talks about and demonstrates his body-powered prosthesis.
Tell us in the comments if you, like Lloyd, have given your prosthesis a name, or what you'd name it if you had one!
For more Arm Dynamics articles, see related resources here: