by Amber Henson, on Nov 22, 2022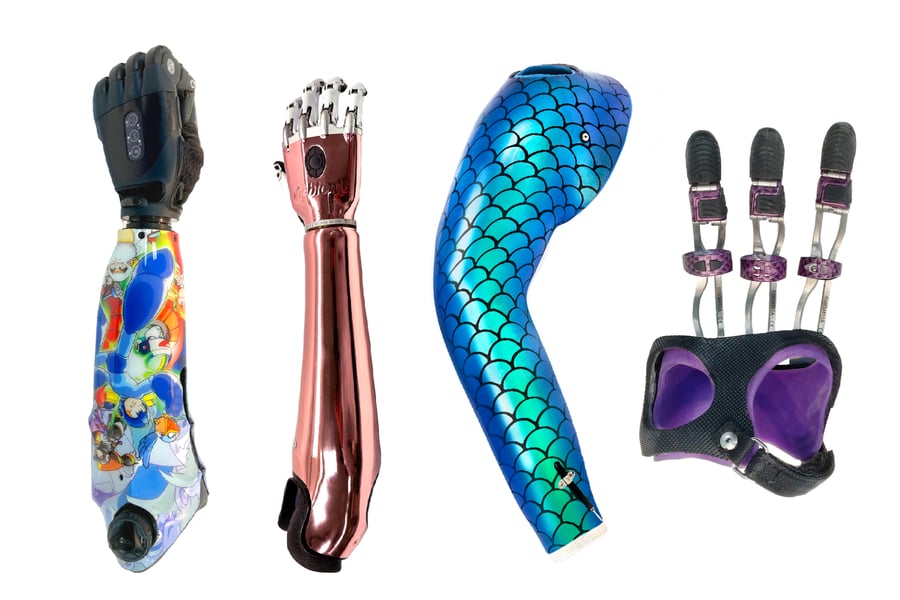 It's important to us that our patients are happy with their prostheses. We want them to be happy with how they function, how they feel, and how comfortable they are. We want them to be happy with their level of knowledge of how to use their device to maximize efficiency and reduce overuse issues. Beyond these practical aspects of wearing a prosthesis, we want people to be happy with how they look.
As upper limb specialists, we know how to create a functioning, durable, comfortable device, but our patients are the ones who know the most about how they'd like it to look. Sometimes it can be as simple as picking a color, and other times they may have a more complex idea or vision about how the prosthesis should look.
We create prosthetic frames for our patients in a variety of colors - sometimes even more than one! Shaholly Ayers, who is a model, initially wanted an ombre finish on her frame.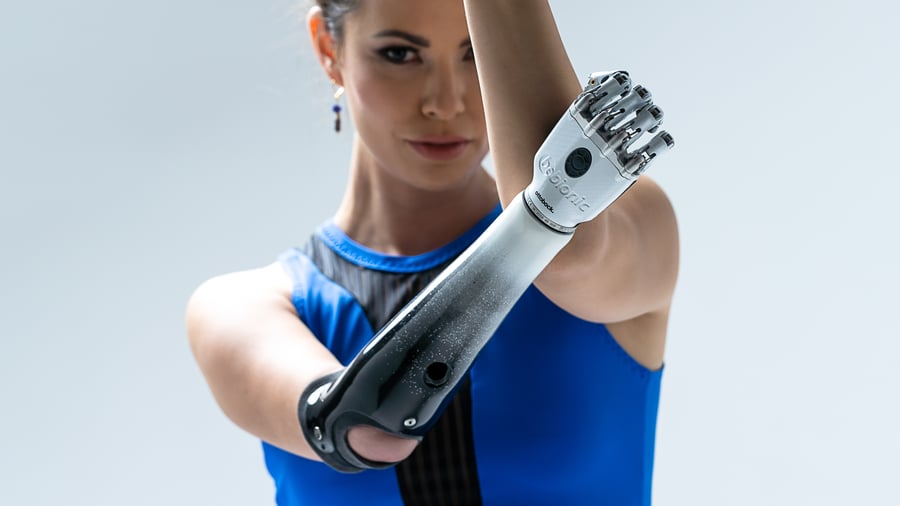 But after a couple of years, she decided rose gold was the way to go:

We also offer colors on partial hand devices: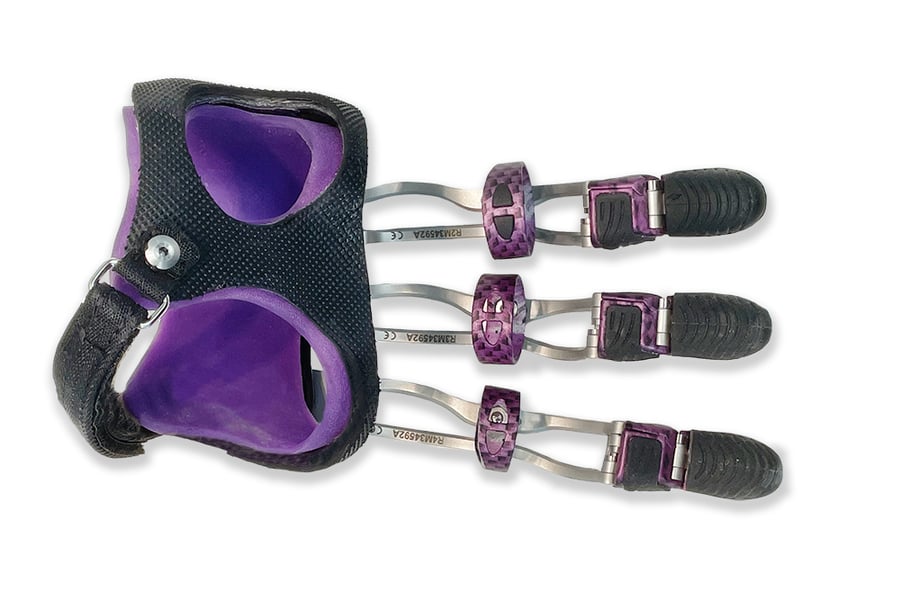 Patients can even pick the color of their silicone socket, like this vibrant purple one or the pink one in the video below. Extra personalization!
For some people, it goes beyond color choices and more into the realm of design. If there's a design that has special meaning to a patient, we are more than happy to work with them to create their vision. For Marissa Rotenberry, a mermaid overlay was important to her – she was inspired by the painting you see here. She explains in her video below the images: "When I was in the hospital after the accident, my uncle painted this for me, and it was mainly 'cause I love mermaids. He gave the mermaid a phantom arm, like I have, and he gave the little turtle a phantom arm. Now I'm the inverse of my painting and I've got a mermaid arm."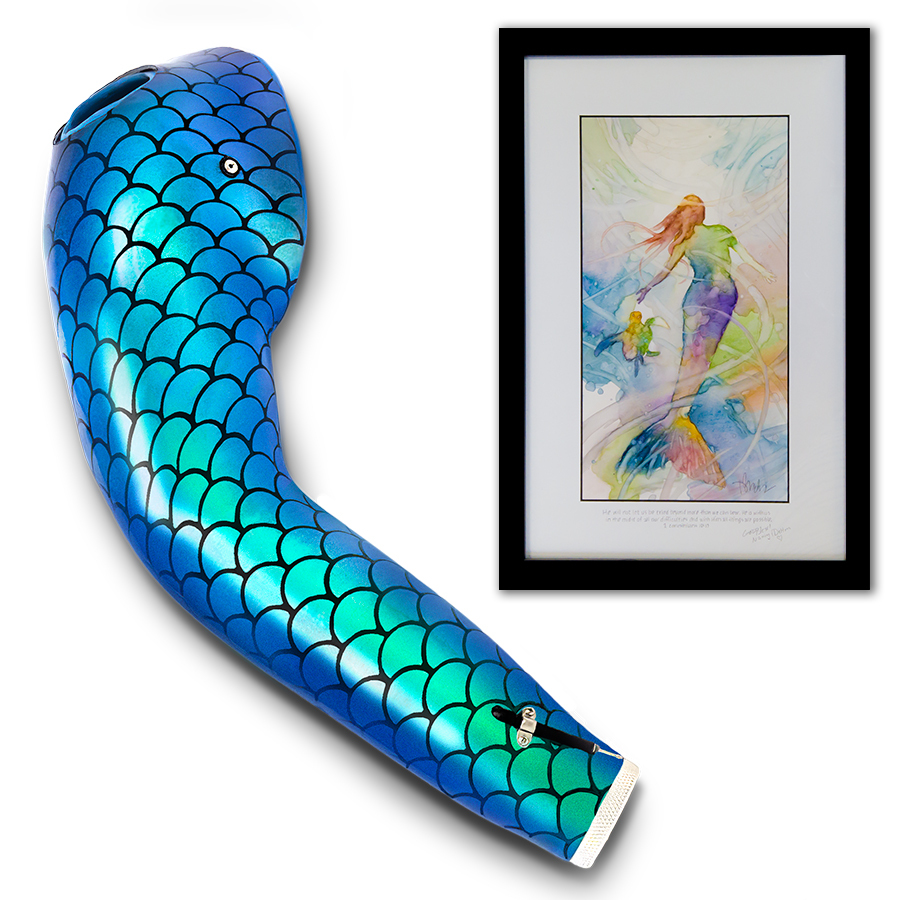 Marissa's iridescent prosthesis looks amazing, but it did require our team in Dallas to put on their thinking caps. From the team: "Applying the mermaid print spandex was very difficult due to the material. But after some trial and error, we figured out a new technique that worked! We're happy with the results and so is Marissa." We are always up for a challenge!
Speaking of designs, tattoos can be added to cosmetic prostheses:

If patients want to include their favorite art or graphics, that's no problem.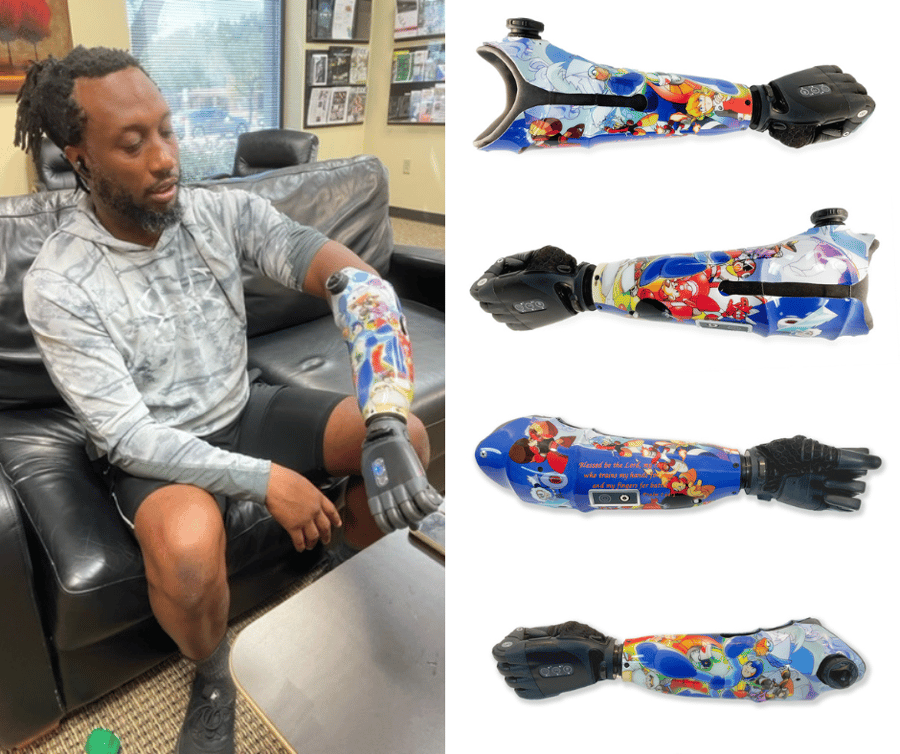 Below we feature Jason Koger's prostheses. He asked if he could have photos of his kids integrated into his frames. Of course we said yes!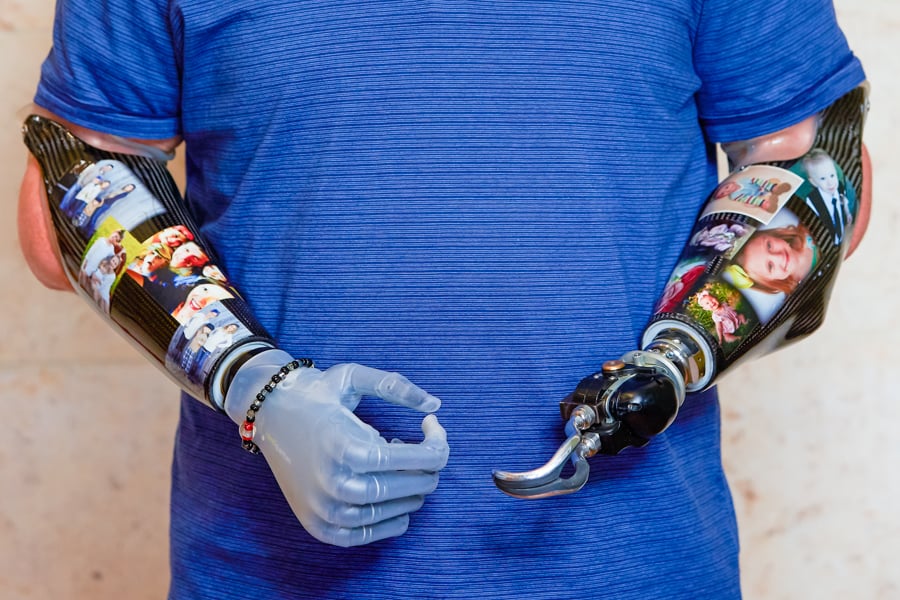 If our patients can dream it up, we will do our darndest to make it a reality. For those who want to learn more or tell us what they'd like, please contact us. We enjoy discussing what the ideal device for a patient would look like – when a prosthesis is beautiful or looks cool, they're excited to wear it!

Our patients inspire us every day. If you have a custom design on your device, we'd love to hear about it! Please comment below.
For more Arm Dynamics articles, see related resources here: