Lifelong Prosthesis Users
by Amber Henson, on Jul 12, 2022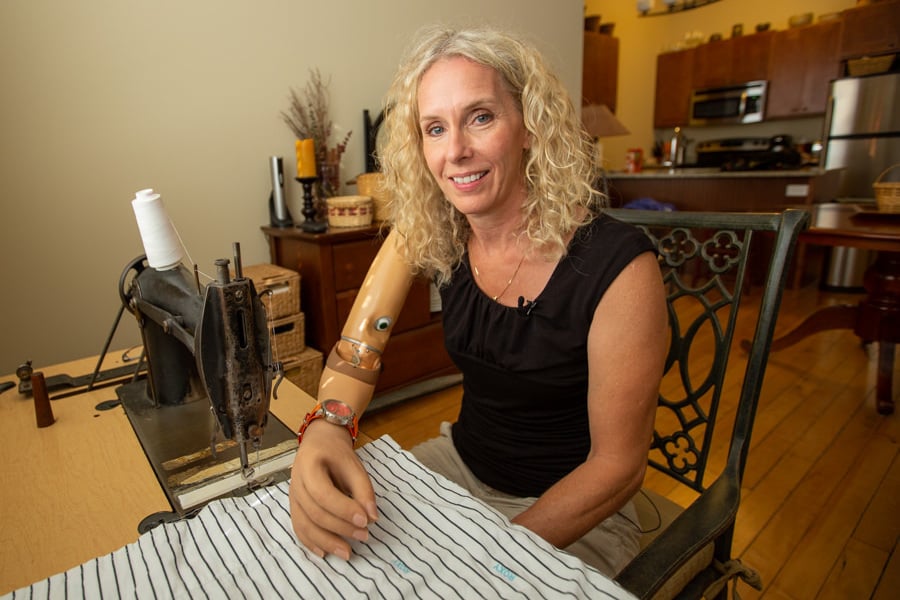 In our article, Adults with Congenital Limb Differences, we introduced several of our patients who did not wear a prosthetic device as a child, but wear one now as an adult. In this article, we'll introduce you to some of our patients who wore prostheses as children and continue to wear them as an adult.
Our patient Angel was fit with her first device at just six weeks old. Since then, she's always worn a prosthesis — you can see a variety of her childhood devices in this photo from her Instagram account:
As Angel grew into adulthood, she decided to pursue acting — it's likely you've seen her in a commercial or a print ad over the past few years! She is also a disability advocate and has spoken at events like Amputee Coalition Hill Day: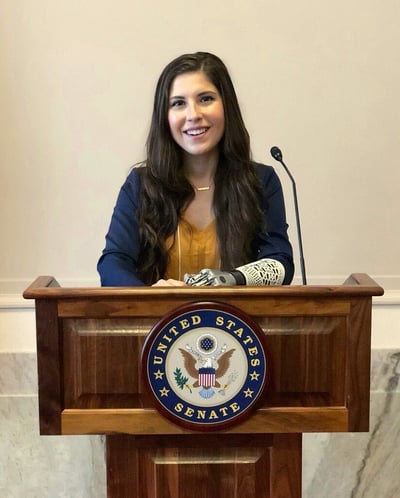 You can learn more about Angel in her patient profile video:
Sherri is a patient at our North Central Center in Minneapolis, MN. She wore a body-powered prosthesis as a kid, which was helpful. However, at age nine, she struggled with using the device when she started sewing as a hobby. Because her body-powered prosthesis required large, upper body movements to activate her terminal device for sewing, she developed overuse pain in her shoulder and upper back. Later, she was fit with a myoelectric prosthesis, which made it much easier to sew. Sherri says that her single-motor myoelectric hand, "Makes it so much more effortless. And I can grip tiny little thread and small pieces of fabric very easily without having to move my entire body to do it. That makes the whole process much less frustrating and the result just looks a lot better, too." Later, an electric wrist rotator was added to the prosthesis which, "Just makes sewing 100 times easier."
You can learn more about Sherri in her patient profile video:
We met Amber when she was nine years old, and now she's a high school graduate! Amber has worn various devices throughout her life, including activity-specific devices to help her play sports and play the violin. See Amber in action with her prostheses in the video below:
Here's Amber more recently: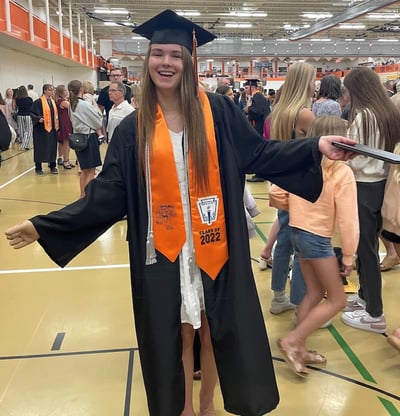 All three of these women benefitted from learning to use prostheses as children, allowing them to naturally develop the functional skills needed to become successful adult prosthesis users. Are you the parent of a child with a limb difference and considering getting them prosthetic care? Or are you looking at prosthetic options for yourself? We offer complimentary consultations to all potential patients. Just contact us. Have you been using prostheses since you were a kid? Please leave a comment below with your experience. Thanks for reading!
For more information, see related Arm Dynamics articles here: