When Should My Child with a Limb Difference See a Prosthetist?
by Amber Henson, on Oct 19, 2021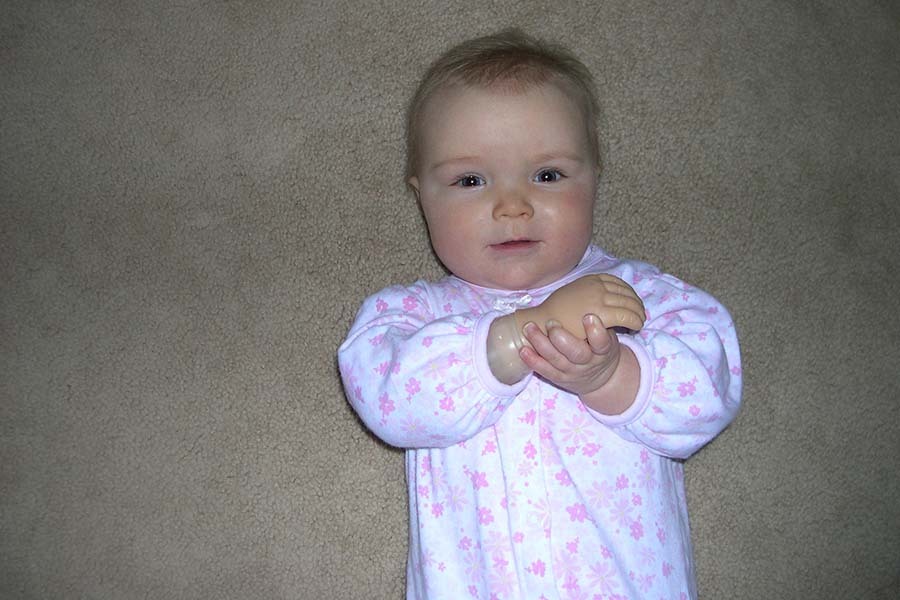 There are many prosthetic options available for children with an upper limb difference. Most children naturally adapt to wearing a device, provided that it fits well, and they receive prosthetic training and ongoing support. To gain the most benefit from a device, studies have shown that kids who are fit before the age of two have excellent success rates with a prosthesis – but the benefits also exist for older children! Fitting as young as six months can be helpful because the child's brain is developing skills in sitting, pulling up to standing, and using the device to grasp. Early fitting and ongoing follow-up are so important that we recommend that parents connect with our prosthetists and clinical therapy specialists as soon as possible. This helps set the stage for children to begin using a device that will give them an advantage for the rest of their life.
As the parent of a child with a limb difference, you may hear from both medical professionals and well-meaning friends or family that children don't need or want a prosthesis. But we know that you're reading this article because you want to give your child all the tools they need to thrive with their limb difference.
First step – set up a complimentary consultation with us. You are welcome to do so as early as your child's birth or anytime you would like to learn more. Your consultation with our prosthetist and in-house clinical therapy specialist can be in-person or via video chat. During that meeting, we'll discuss your child's prosthetic options, and the goals and expectations that you have for your child. We have years of experience working with pediatric patients and creating personalized care plans for children.
While we are happy to consult with families who have a newborn, the actual fitting process begins around six months of age. In general, for congenital limb differences that are above the wrist, we recommend a passive prosthesis at six months, followed by a myoelectric prosthesis at 18 months. The passive device allows the child to get used to wearing a prosthesis and use it to bring their "hand" to their mouth, sit up, crawl, or pull up to standing. Those actions are not only important to their physical development, but can help the brain develop in ways that are very beneficial for the child. For partial hand and finger differences, our clinical team will discuss recommendations and timelines for fitting that are specific to your child.
As a child gets older, activity-specific prostheses can help them engage with their peers on the playground, in sports or out on the bike trail. There are devices available that will allow your child to participate in all these activities, depending on the level of limb difference.
When children begin using a prosthesis at an early age, it greatly reduces the possibility of having overuse issues with their other hand, arm and shoulder. Many people who live without a prosthesis experience this later in life. Even partial hand and finger differences can lead to overuse issues in the future. One of our patients, Max Okun, faced overuse issues as an adult after abandoning his prosthetic device as a child. Max's childhood prosthesis didn't fit well and was bulky. Our prosthetists fit and refit to ensure that devices we create for children are as comfortable and functional as possible.
Having your child fit at an early age gives them a jumpstart to future options. By adapting to the weight and feel of a device as a child, they will likely have no problem with wearing and utilizing prostheses in the future. In addition, they'll know what they're looking for, what they like and how a good fit should feel. Upper limb prosthetic technology has come so far in the past 10 years – we often partner in research that pushes the current boundaries, exploring areas such as sense of touch and independent finger control. Though not currently clinically available, these options and more are actively being worked on.
No matter what the age of your child, though, any time is a good time to learn about prosthetic devices and how they can help your child.
To help introduce your child to wearing a device, we recommend a wear schedule and ask parents to stick to it. The goal is to make the prosthesis part of a child's daily routine, and your clinical therapy specialist will work out the specifics with you. Incorporating a prosthesis into a daily routine will become as natural as putting on clothes, shoes, or a coat when going outside. Helping a child have a positive outlook and a routine with their prosthesis is a team effort of the prosthetist, therapist and parents.
Want to hear from three Arm Dynamics patients who wore prostheses as children and continue to use prosthetic devices as adults? Meet Angel Giuffria, Kristi Wolfgram and Sherri Whittaker.
So, if your child has a congenital limb difference or has lost a portion of an upper limb, please contact us at your earliest convenience. We can let you know about all the options available. If you have a child with a limb difference, or you yourself have had a limb difference since childhood and you'd like to share your experience with your peers, we invite you to leave a comment below. Thank you!
For more information, see related articles here: