Limb Loss and Limb Difference Awareness Month: Wendi's Perspective
by Wendi Parker, on Apr 4, 2023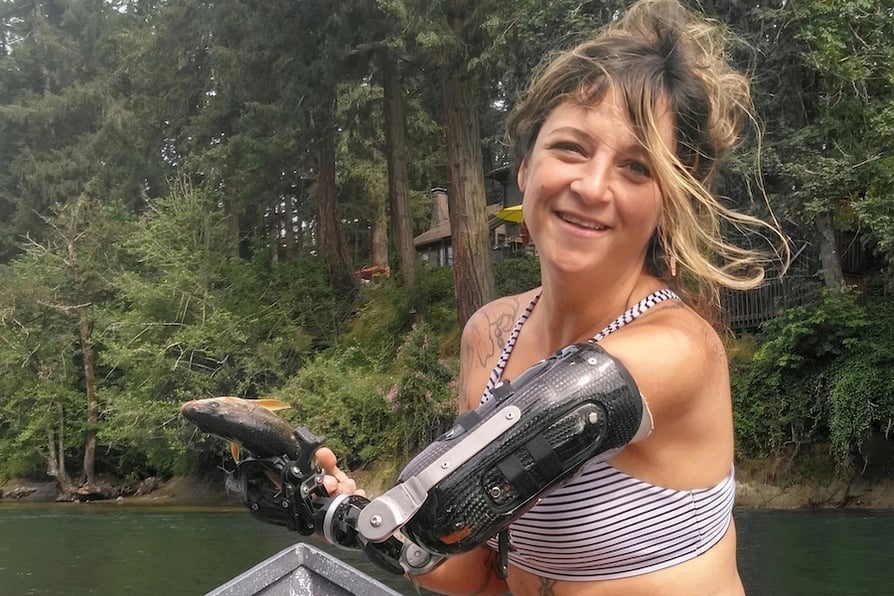 It's April again and that means it's Limb Loss and Limb Difference Awareness Month. This year the Amputee Coalition is encouraging people with limb loss and limb difference to "Elevate your story, your voice, your community and your potential." In that spirit, our patient Wendi Parker is blogging about her unique experience with injury, pain, loss and pushing forward with her life.
Have you ever wondered what it would be like not to have a limb? Like when someone with a limb difference walked or rolled by you down the street or at the airport? I used to wonder often! I wondered if they were born that way, if it was a sudden accident, cancer, or if they had pain that could only be relieved by amputating the limb. I wondered about this a lot because, after a snowboarding accident in 2006, I lived for 12 years with persistent pain in my elbow and arm. I had 19 surgeries during that time, and none of them relieved my pain.
Not everybody's story is the same, but here's my insight. I guess I look at it a little differently than some, and I hope for people that do not suffer from limb loss that this might give some light.

I'd spent my whole life being athletic and working hard to get a college scholarship for softball. In my downtime, I went snowboarding, wakeboarding or slalom skiing. But at the age of 24, all of that changed. I had an accident that landed me in a trauma unit for two weeks, with my arm cut open from my wrist to my elbow just to let the swelling go down. I was about to buy a house and then it slipped away because of my injury. I couldn't even shave my own armpits or legs — shout-out to my mother for helping me in that category. My life was flipped upside down, but I still had my life!
The accident itself wasn't life-threatening, but the aftermath of having an infection was. If my life is split up into a tally board of "good things" and "tough things," I'd have to add a tally to the "tough things" board for my type 1 diabetes.
Because I'm a type1 diabetic, my body was not healing well. And while this was all happening, my cousin, who was close to my age, was dying of cancer. I felt like what was going on with my arm was nothing in comparison.
Between 2006 and 2017, I had 18 surgeries trying to fix my arm. In 2013, I had my son, Hank, who's now 9 years old — so struggle and joy all mixed together. My 19th surgery was a complete elbow replacement, but just three months later, I felt the whole joint moving and coming apart inside my arm. I went back to my surgeon, who shook his head and said, "I don't know what to do anymore." I answered with a smile: "It's time to get rid of my arm!"
From that moment on, I knew I would have my life back! Four months later was the day that I lost my arm but gained my life!
After each of my former surgeries, Hank stayed with my family for a week or so, giving me some time to heal and recover. He was three when I had my amputation, and the day he came home, when he first saw me, there was a car in between us — so he could only see my head. He started to run off to play, but I said, "Hey, what am I — chopped liver?" Hank, who knew I was having amputation surgery, asked "You still got it?" "No," I answered. He came over to me, kissed my wrapped nub and said, "I love you, Mama!" And then he took off running to go play.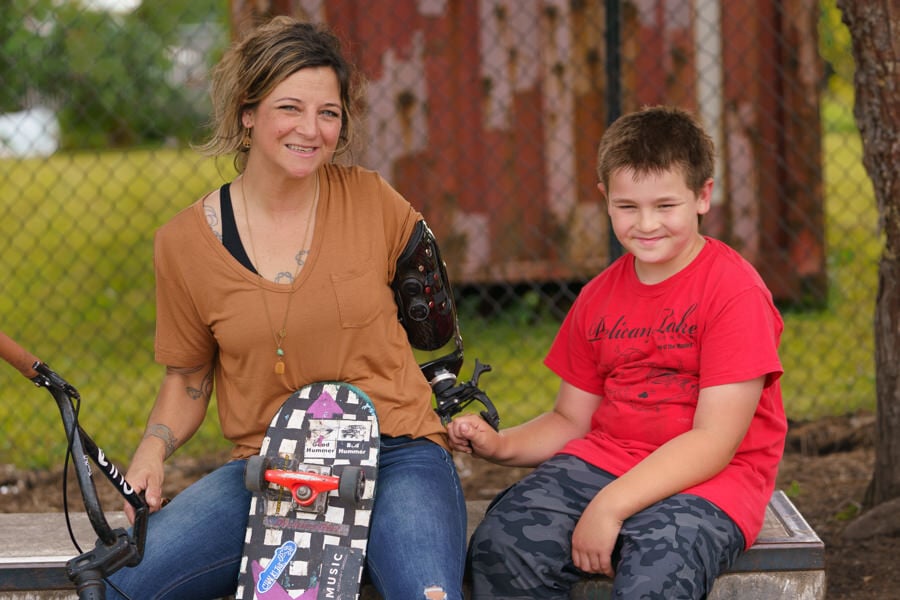 To him it doesn't matter, and I wish it didn't matter to everybody else! If you are an amputee, don't let your limb loss define who you are to yourself, though, granted, my Instagram handle … well, see the bottom of this article for a little bit of irony.
I had waited and waited to get on a paddle board, drive a four-wheeler, and wrestle with my child and not feel pain. And now here I am!
Before my surgery, I had a meeting with the Arm Dynamics clinical team in Portland, OR, to learn about my prosthetic options. After my surgery, I was fitted with a prosthetic device. But I didn't wind up wearing it very much, for two reasons. One, I was used to doing everything with one arm — I'd had practice for over a decade! Two, I had bone spurs that made wearing that device painful. After a couple of years, my sound side began to hurt from overuse. When I went back in the Arm Dynamics center, I realized that we could make a device that was unique to me and helped me get back to the gym. That's why my device looks so cool and different!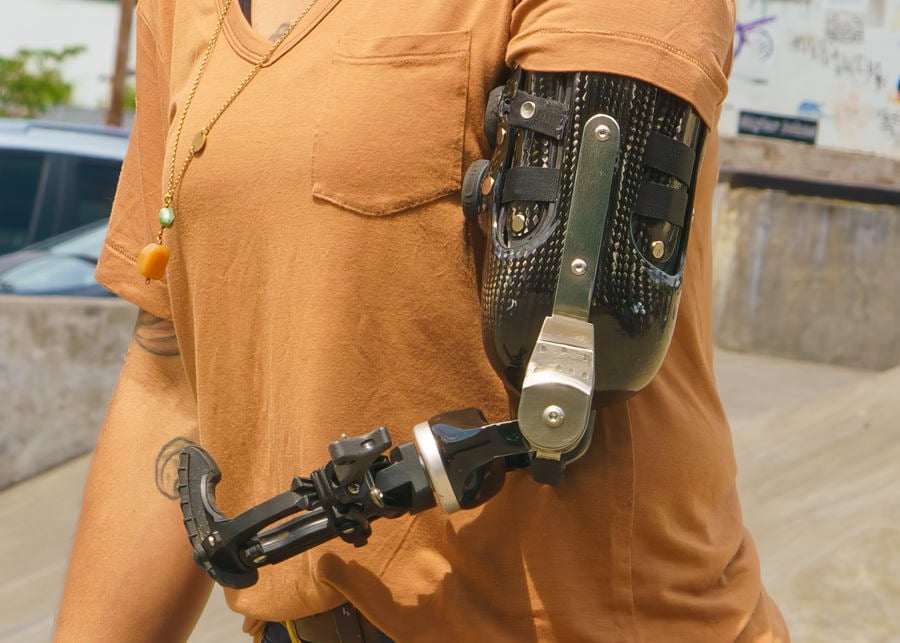 Now my prosthesis helps me with workouts, craft projects, cooking, and doing my job. Some days I get frustrated with how people look at me, or speak to me, and treat me, but boy, they have no idea what I'm capable of! Somedays I'm frustrated with myself, like when I'm in the gym, sweaty, and trying to pull up my pants after going to the bathroom. And I've had some real knockdown, drag-out fights between me and the riding lawn mower. But I'm still learning what I'm capable of, and I'm doing things that I didn't know two-armed Wendi was capable of.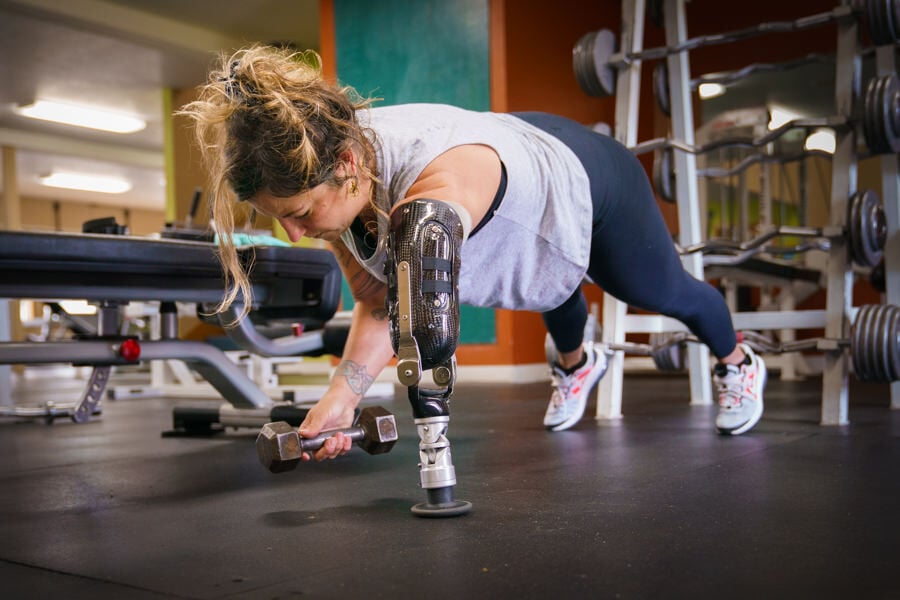 I had to live with the pain and non-usage of my arm before my amputation – I feel almost blessed knowing my life is better now. I imagine a sudden limb loss would be more challenging on the mind. Everyone's story and feelings are different. Yes, it's going to be hard; yes, it's going to mess with your mind; yes, you're going to cry; yes, there will be times when it hurts, like when I fell down that mountain. It hurt ... but eventually I got back up, put a smile back on my face and made that mountain mine again. We learn from what we go through and try to grow.
So these are my thoughts during Limb Loss and Limb Difference Awareness Month. You only have one life; take whatever it gives you and make your best self with it. So, I guess my insight for limb loss awareness is ... we still got the rest of you to deal with, so make it fun!!
You can learn more about Wendi by watching her Patient Success Story Video and following her on Instagram: @onearmedmom.