Returning to Prostheses: When People with a Limb Difference Decide to Try Using a Prosthesis — Again
by Amber Henson, on Aug 29, 2023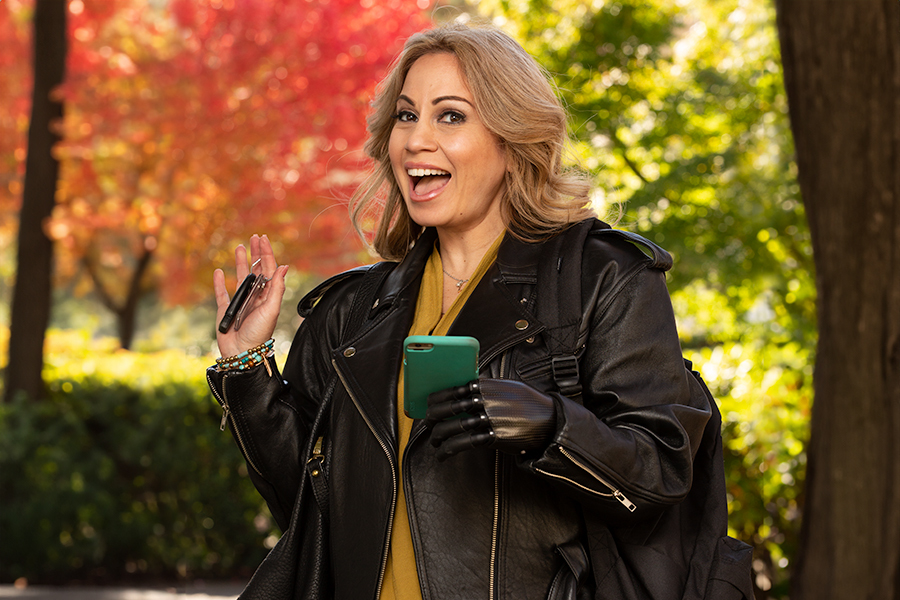 When children are born with congenital limb differences, their parents may have them try wearing a prosthetic device, depending on their level of limb difference and the functional goals of the parents and child. Some kids stick with it, like our patient Angel Giuffria did — her parents had her fit when she was a baby, and she's been wearing a prosthesis ever since. Others have a harder time continually wearing theirs, like Candice Dicke:
"Growing up, it was very hard for me to find anything that actually fit comfortably. A lot of the time, the prostheses were just hard plastic, were hard to get on and off and they didn't provide any movement. I would just be able to move my hand in the prosthesis and it really had no purpose. It could maybe hold something like a piece of paper, and it just didn't feel comfortable on my arm."
Candice was born with a partial hand limb difference, that is, she has a wrist and part of her palm, but no fingers. This kind of limb difference was hard to fit when Candice was a child — there weren't many prosthetic options.
"It got to the point where I just didn't want to wear it because they didn't have the technology or the training they have today to really work with children and adults with limb differences. It didn't make me feel good about myself. My parents talked about me and just decided, 'You know what? She'll figure it out on her own.' And I did."
Candice learned how to ride a bike, play on the playground, anything she wanted to try, with the help of her family, especially her sisters. "Of course, my mom was afraid, like I was going to hurt myself or get into an accident or something. But the rest of the family would just say, "She'll figure it out. She can do it."
Fast forward to Candice as an adult, scrolling through social media when she spots someone wearing a cool, sleek prosthetic frame and terminal device. She reached out to ask where they got it and the answer was at our Arm Dynamics center in Portland, OR. "Since things had advanced since I was younger, I thought this might be a better opportunity for me, so I gave them a call and I scheduled an appointment."
Our clinical team fit Candice with multi-articulating myoelectric fingers. "When I met with the prosthetist and the clinical therapy specialist in the beginning, they had asked me how I want my prosthesis to look. Did I want it to be more natural skin tone? Did I want it to look like a real hand? I told them no, I really wanted to look futuristic and bionic. I just thought, if I wasn't born with a real hand, why am I going to try to look like I have a real hand? I was really ecstatic to have it look as sleek as it does. The design that they created for me was just beyond my expectations."
It's not just Candice who likes the look: "When I went home with my prosthesis, even before I had my design complete, my friends and my family were so excited, and they thought it was just amazing. They're all into superhero stuff, especially my nephew and he just thought it was so cool the way that the design looked. Then when I went to work, they were so excited for me, and they thought it was the coolest thing they've ever seen. It's been an experience showing it to different people, especially little kids. They can't believe that this device even exists because they've only seen it in movies. So, it was pretty cool."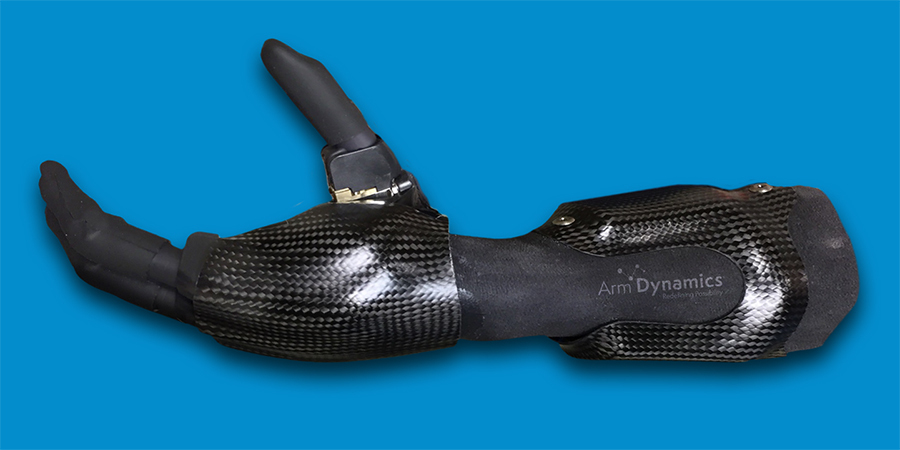 Candice finally had a prosthesis that fit her, was comfortable and she liked the look of. But how has it helped her with work? "I assist in training doctors and their staff how to use their electronic health record systems and a lot of the time, we go on-site to the clinics or hospitals or practices. Just being able to hold on to my phone or a tablet and documenting information that I need to remember. Or writing something down, I can hold a pad of paper and write down notes that I need to make sure I have available. It's just with multitasking, it makes my job a lot easier. I wear my prosthesis for probably about 12 hours a day."
You can watch Candice discuss her prosthesis in her patient profile video below:
Want to learn more about how our congenital limb different patients have found prostheses helpful in their adult lives? Check out our article, "Adults with Congenital Limb Differences" where we profile Mandy, who discusses how her prosthesis helps her with childcare tasks; and Max, who wanted a prosthesis so he could work out without experiencing overuse issues.
Our clinical team members are dedicated to learning about their patients' needs and goals so they can create a custom prosthesis that will work best for them. If you or someone you know is interested in having a complimentary in-person or virtual consultation with our team, please contact us. If you have a comment, please leave it below. Thank you to Candice for speaking with us and we hope you have found this article helpful.