Our Clinical Therapy Specialists: Out and About
by Amber Henson, on Apr 11, 2023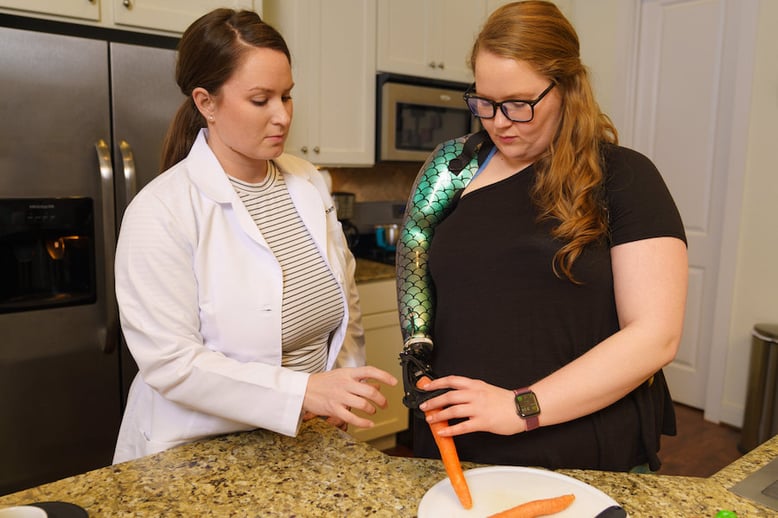 April is National Occupational Therapy Month, giving us the opportunity to shine a light on our Arm Dynamics therapists. It's also Limb Loss and Limb Difference Awareness Month and we like to use this time to reflect on how our therapists, both occupational and physical, help our patients.
Last year we spoke to our therapists about why they loved their jobs. This year we wanted to focus on their stories about how they help patients at their jobsites, schools, homes and in their communities, basically anywhere they need to go to get people with acquired amputations back to life and back to work.
Lauren Trent, the occupational therapist at our Kansas City, KS, center, and Senior Manager of Therapeutic Services and R&D, recalls recently helping a patient at their worksite before he was fit with a prosthesis. "He was a partial hand amputee and the plan was for us to go with him to his jobsite, which was where he was injured, and determine what type of device would best serve him. How much dexterity would he need and how durable would the device need to be? What would we need to create for him to be able to grasp the tools and machinery that were essential to his job?" Lauren was able to meet with the patient's manager and have him walk her through what a typical day looked like. "After his prosthesis was fit, we went back to his workplace, watched him work and made sure his new device was functioning the way he was expecting."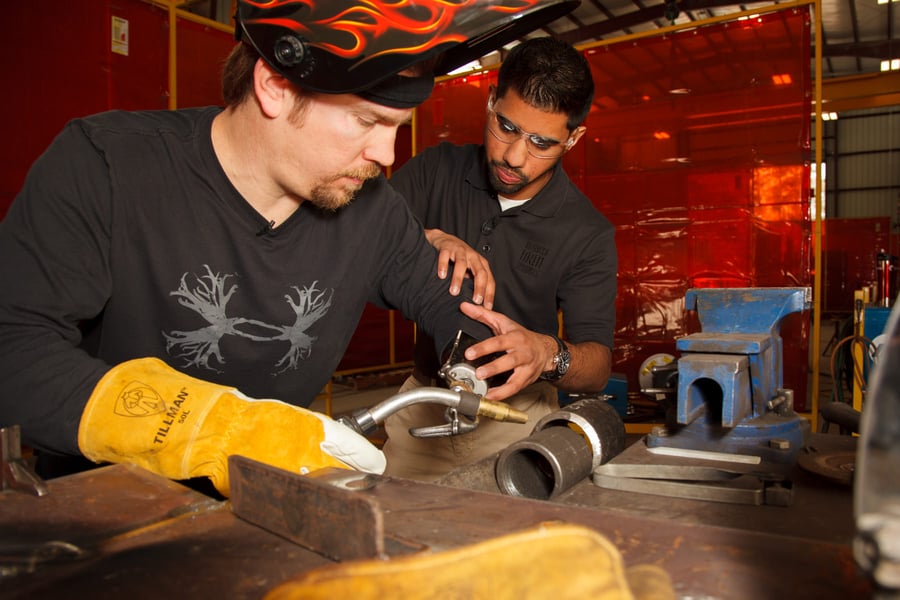 Returning to work for the first time after an injury can be daunting. But going back for the first time with someone who understands what you've been going through since your injury can be helpful, even beyond the scope of figuring out how to get the job done. Jennifer Peterson, the physical therapist at our Minneapolis, MN, center, recalled, "I went with a patient to the production floor where he was injured. We had fit him with iLimb Digits and Point Design Digits, but psychologically, he was having a hard time thinking about going back to work. I was able to observe what he was going to need to do on his specific machine. It was helpful to not only talk the patient through how to utilize the prostheses on that specific machine, but to encourage and support him." There is another helpful aspect to going to the factory. "The patient and his supervisor were able to show me other jobs on the floor that were alternatives for him, in case his particular machine proved too difficult to use with his new prosthesis, or if he just felt that mentally he didn't want to return to the same machine he was using at the time of his injury."
Goals and jobs change over time, though, and it's important for our therapists to keep an open conversation going with their patients about what they might need. Jamie Carroll is the newest member of our therapy team and the occupational therapist at our Portland, OR, center. "We had a patient come in just a couple of weeks ago to check in with a research study that he's a part of. He mentioned the job he'd be starting over the summer, working for the Parks Department, and myself and Mac [the prosthetist] realized that he'd be needing more than his current body-powered device. A second device, something activity-specific, would be more helpful, especially with the mountaineering that he was hoping to pursue as part of his job." The Portland center got to work getting an authorization for their patient's new devices. "He'll be coming back in next week to start learning how to use these new prosthetic terminal devices," Jamie informed us with a smile.
While the workplace can be integral to getting a patient back to "normal," home visits can be just as important. Our Dallas, TX, center's occupational therapist, Carina Geraldez, told us about a home visit that particularly impacted her: "This visit is a great example of the holistic approach that therapists take. This patient uses bilateral myoelectric devices, and she was having difficulty determining how to access different areas of their home." This patient uses a wheelchair for mobility and "she had a lot of tight turns they needed to make. Not only that, even if the person could get where they needed to be, she had difficulty accessing areas from the height that they could reach while sitting in the wheelchair." Several parts of her home were inaccessible, "including the shelves in the kitchen, shelves in the shower, and clothing hanging on a rod were out of her reach. Clinical therapy specialists have the training to help a person accomplish tasks — both with and without prostheses." Carina was able to go through her patient's activities of daily living and determine what tools and modifications were needed to help her get through their day as independently as possible.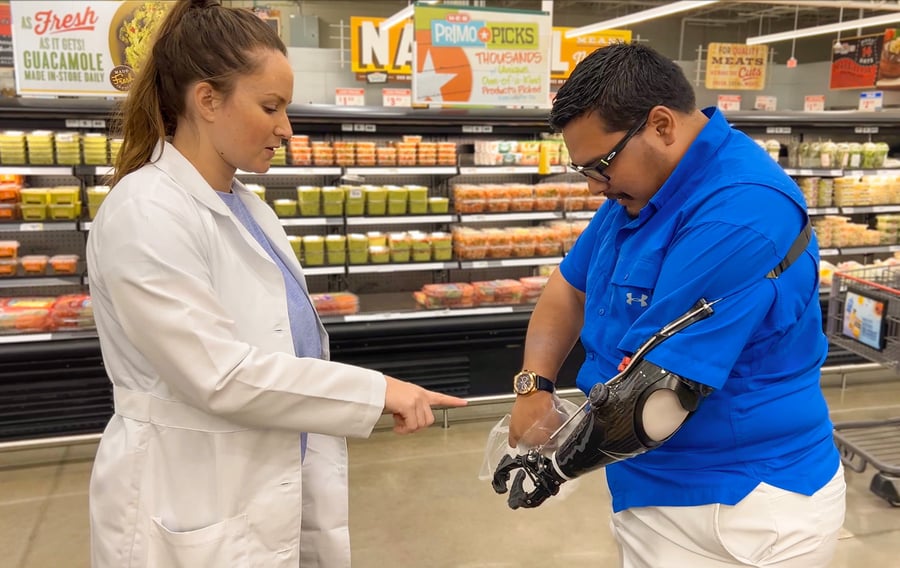 All of this commitment to getting our patients to a place where they feel comfortable returning to work, starting a new job, managing tasks in their home, and being able to perform necessary errands is part of our clinical therapy specialists' lifelong care and follow-up. Having our therapists on-site and part of their patient's fitting process is key to helping them understand the needs of their patients. These tenets are unique to our company, and we feel so lucky to have these therapists with us to help our patients on their journey.
If you or someone you know with a limb difference could use this kind of support with setting and meeting goals, please contact us. If you have comments on this article or just praise for our outstanding team (we can't say enough!), please leave it below.