Following Your Amputation, When Should You Meet with Arm Dynamics?
by Amber Henson, on Aug 31, 2021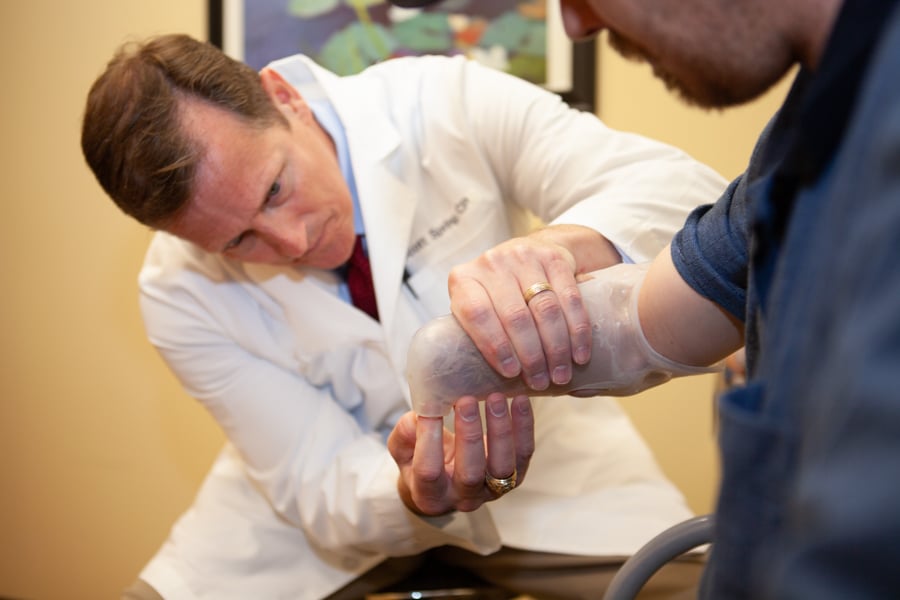 The easy answer is: as soon as possible. Why? Because even if your amputation/injury site has not healed yet, there are many benefits to having a consultation with our clinical team. The most important one is the hope that it can bring to both you and your family – once everyone sees what possibilities are out there, it can be easier to deal with the reality of the situation. During consultations, we discuss patient goals and show you how current patients with similar amputation levels are functioning and thriving.
Beyond that, there are more practical reasons. One is that insurance approvals can take weeks, or sometimes months, to come through. After a consultation, if you decide to pursue care with us, we start submitting authorization requests to your insurance company. Initiating this process while you're still healing means that you could be wearing your prosthesis sooner than if you waited until after you were healed.
Another reason is that the earlier Arm Dynamics can connect with the rest of your care team, the better. Ultimately, your care team consists of YOU, your surgeon, physician, prosthetist, occupational or physical therapist, and in some situations, your nurse case manager. Getting to know those individuals helps us establish relationships that benefit you. We can make recommendations and be a resource for the care team by sharing our knowledge and expertise in upper limb prosthetic rehabilitation. This can be especially important if you may have more surgeries on the horizon.
As the center of the care team, you, along with your family, can also rely on the Arm Dynamics team for information and guidance. The world of upper limb prosthetic technologies has advanced dramatically over the past ten years – the more time we have with you, the more we can discuss what prosthetic options are available and how they can best help you meet your work and home goals. In addition, we can recommend different types of post-surgical treatment for your residual limb, help you identify reasons you're experiencing pain and assist in the healing process.
Having a person to talk with is more productive than simply searching online (or reading a blog article). We offer not only ourselves as a partner in your care, but we also have an extensive peer-to-peer support network, consisting of individuals with upper limb differences who want to support others who have been through similar amputations.
If you are a physician who wants to know the best time to refer your patient to us, the answer is: now. Allow us to become part of your patient's care team as soon as possible so we can be a resource to them and you. Let us begin a relationship that allows them to trust us when it is time for them to be fit with their prosthesis.
Why wait for a good thing? Contact us at your earliest convenience and we can set up an in-person or telehealth meeting. You are also welcome to contact us if you have any questions. If you've already consulted with a prosthetic care provider, use the comment section below to let your peers know when you think it's the right time for that first visit.
For more information, see related Arm Dynamics articles here: