Waterproof and Water-Resistant Upper Limb Prostheses
by Amber Henson, on May 9, 2023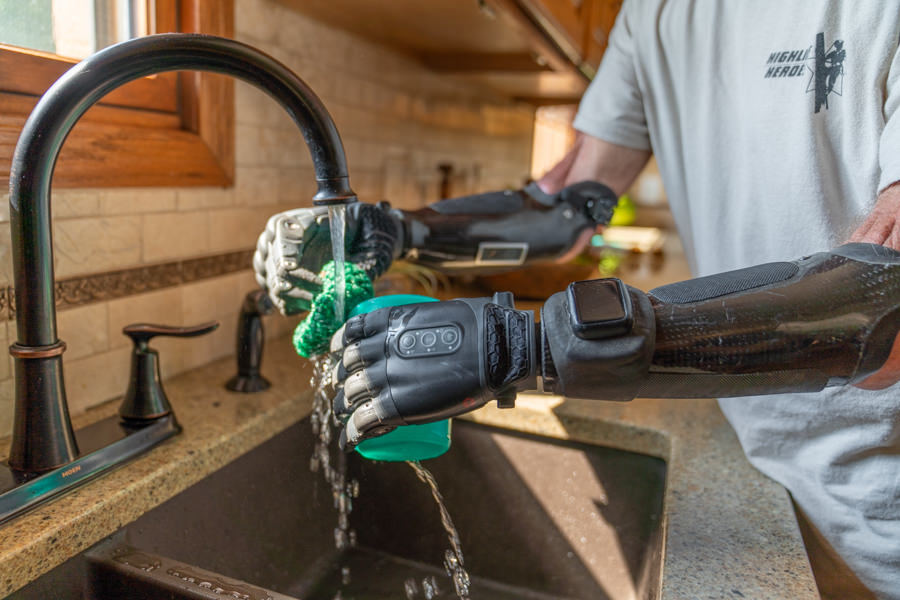 Between hand washing, doing dishes, rainy days and everyday life, we get our hands wet a lot. Not all prosthetic terminal devices can handle water, but some can. There are even some that are built for water. If you'll pardon the pun, let's dive in!
Passive and Cosmetic Terminal Devices
Passive devices like Point Designs Digits are some of the sturdiest devices out there. It's okay to get them wet, just be sure to dry them thoroughly. You can learn more about those devices in our article, "Finger and Partial Hand Devices in Action." As for cosmetic silicone restorations, they are waterproof, but the same advice should be followed: dry them thoroughly afterward. You can learn more in our article Daily Care of Your Prosthesis.
Body-Powered
Most body-powered devices can handle some exposure to water. For example, the tines of a body-powered hook are washable, and on most devices, you can use a little soap. You don't need to worry about rain. Naked Prosthetics are a common body-powered choice for partial hand differences, and those devices are water resistant. While they shouldn't be submerged in water for long, it's okay to get them wet if they are towel or air dried afterward.
Myoelectric
The tines of an ETD and the ETD2 are waterproof. When it comes to multi-articulating myoelectric hands, the TASKA is the only waterproof option.
Motion Control, a prosthetics device company, makes a wrist which can be used in conjunction with the ETD, ETD2 or TASKA hand. They now offer a waterproof seal for that wrist, which is necessary if you want to submerge more than just the terminal device.
Activity-Specific
Swimming is an excellent way to exercise, and if your goal is to have a terminal device while you swim or to help you swim, that is an option. We have created activity-specific devices for our patients to use in the pool, including the one you see below for silver medal Paralympian Lizzi Smith, a patient at our Southwest Center in Dallas:
Depending on your everyday tasks, your job and your goals, there should be a terminal device that fits your needs. It is our goal to help guide you through the process of determining the best prosthesis for your needs. Once you have been fit with your device, we teach you how to use the device and keep it clean. Then we provide you with a lifetime of care, including our annual maintenance.
Would you or someone you know benefit from one of the above prosthetic devices? Please contact us. If you would like to leave a comment regarding prosthetics and water, please leave it below. We hope you found this article helpful.
For more Arm Dynamics articles, see related resources here: