Introduction to Dressing Trees
by Amber Henson, on Nov 8, 2022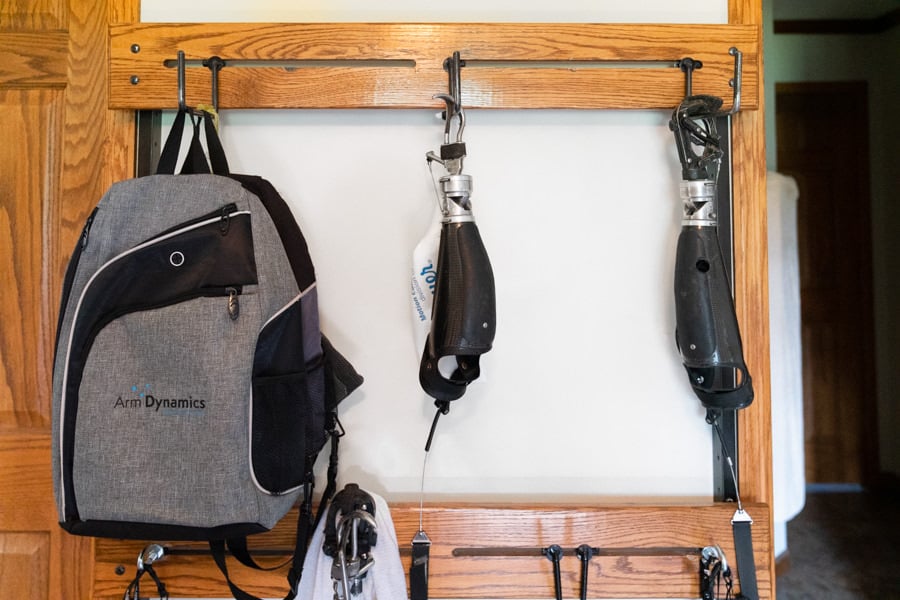 A dressing tree is a term that indicates a system of hooks and pegs that can help people with an upper limb difference put on and take off, or don and doff, their prostheses without the help of others. By using the word "tree," it's easy to imagine that it must be a stand-alone object, but that isn't necessarily the case. Indeed, many people with an upper limb difference may find it best to have the hooks and pegs placed directly on a wall to keep them as stable as possible.
Dressing trees are most helpful for people with a higher-level bilateral limb difference, but people with lower-level bilateral limb differences or people with a high-level unilateral limb difference may also find them helpful. Dressing trees are all about preference and choice. Some people with a high-level congenital upper limb difference may not need them because they have adapted to putting on their prostheses with their feet as a young child. For individuals with an acquired bilateral amputation, learning how to use a dressing tree can give them a great amount of independence.
In addition to helping individuals don and doff their prostheses, dressing trees can also help with clothes — both shirts and pants can be manipulated so that the person can get dressed without the help of their prostheses, if they so choose. It is important to note that while dressing trees can allow individuals to be more independent with their devices and clothes, the process will take longer than it would to have someone else help them. But many times, the person may find that independence important to them or even necessary, depending on their caregiver situation.
At Arm Dynamics, several of our centers have a dressing tree for our patients to practice on. Additionally, trial and error helps our prosthetists, technicians and clinical therapy specialists figure out what configuration of hooks and pegs will work best for the patient. Sometimes, our technicians are able to go to our patient's home and create a custom-made dressing tree for them. This is the process we recommend, as a professionally-created dressing tree can be more efficient than the alternative and decreases overuse issues.
If that isn't an option and an individual is considering building a dressing tree at home, one can see what we have in our centers in the video and pictures below to get an idea of what they look like. Dressing trees can be made from PVC pipe, wood, metal — whatever material the builder is comfortable with. Dycem® or another type of tacky material can be extremely helpful to make sure hooks are efficiently tightening straps or belts.
We have two dressing trees in our center in Dallas — one made out of wood and the other PVC pipe: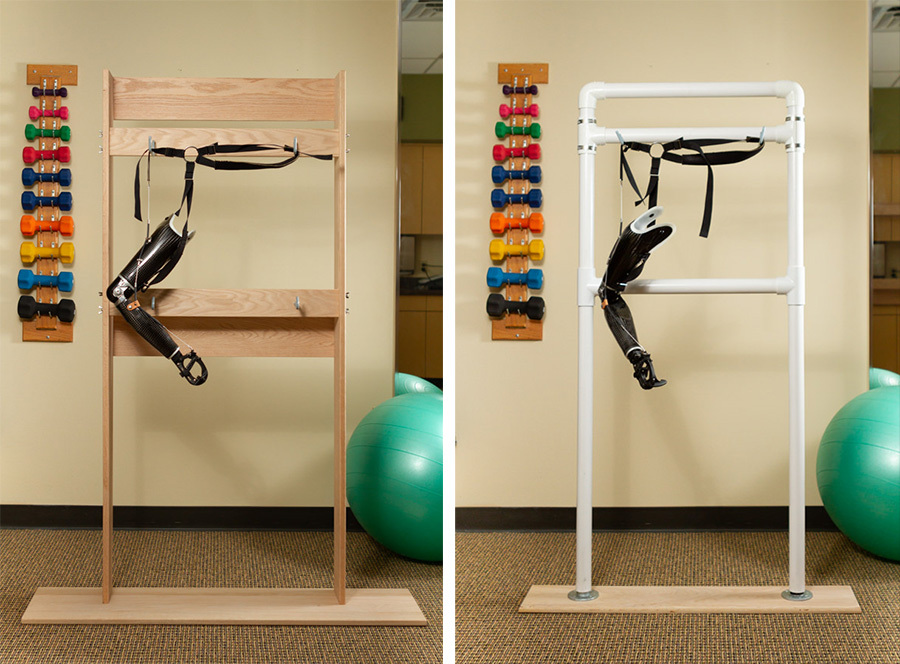 For anyone looking to learn more about how our clinical teams could help them feel more comfortable in their upper limb protheses and aid them with dressing tree information, please contact us. We offer complimentary consultations either in person or via video chat to any interested party. We would also love to hear from individuals with experience with a dressing tree — please comment below.
For more Arm Dynamics articles, see related resources here: