The Benefits of an In-Person Fitting for An Upper Limb Prosthesis
by Amber Henson, on Sep 19, 2023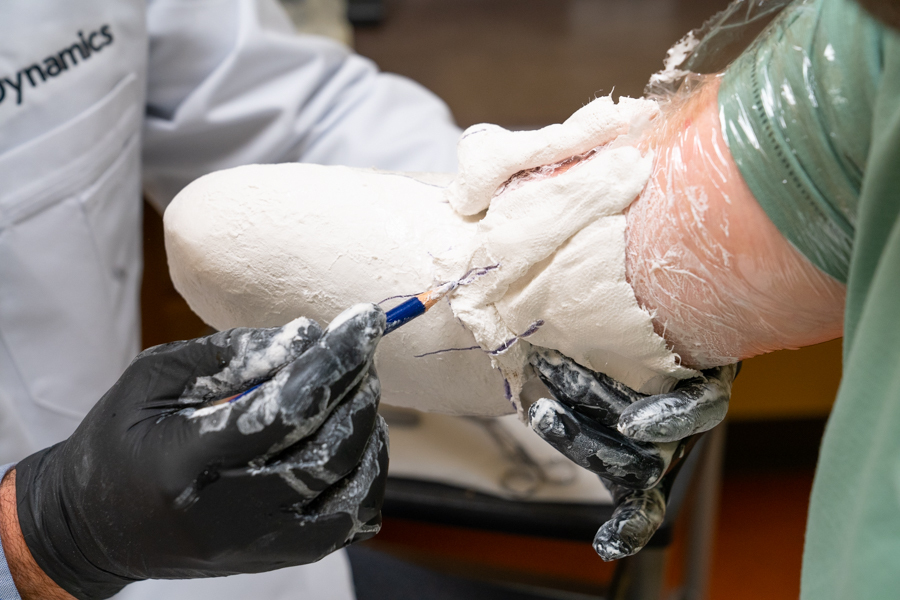 There are some prosthesis manufacturers who will send their customers a "custom-made" prosthetic limb or a "custom-fit" partial hand or finger prosthesis without ever seeing, touching, or getting critical measurements of their limb. While these companies may do their best to ensure that these devices fit well, the level of prosthetic care they are offering is not the same as what we provide. As the most experienced upper limb prosthetic care provider in the world, there are many benefits to the care we deliver, but let's go over a few of the issues one might encounter when getting fit with prostheses directly from a manufacturer.
Less Options Available
When you go to a manufacturer, they are going to offer one type of prosthesis, be that passive, body-powered or myoelectric. This means that if you come to them and ask for what you think you need, they will go ahead and sell that to you. The assumption is that you are the prosthetic expert. While you may know what you need from the prosthesis, you likely don't have all of the information you require to ensure you get the right device. That's where we as experts come in! We can help educate you on your options and together we can decide what approach will be the most successful.
Our patient Shane (pictured below) had an amputation of two fingers after an accident. Shane came to us, sure of what he needed. "Originally, I was convinced that I needed a Naked Prosthetic device for my ring finger, thinking for sure that was my only option and I didn't want anything else. The Arm Dynamics clinical team discussed the pros and the cons with me and I actually went a completely different route than that." While we left the choice up to Shane, we made sure he had all the information. Shane wound up wanting a Point Designs digit (an option he hadn't previously been aware of) for his ring finger and Naked Prosthetics for his pinky. We have no agenda about what brand of device our patients should wear — we just want to make sure they have the data they need to make a decision that will provide them with maximum function and comfort.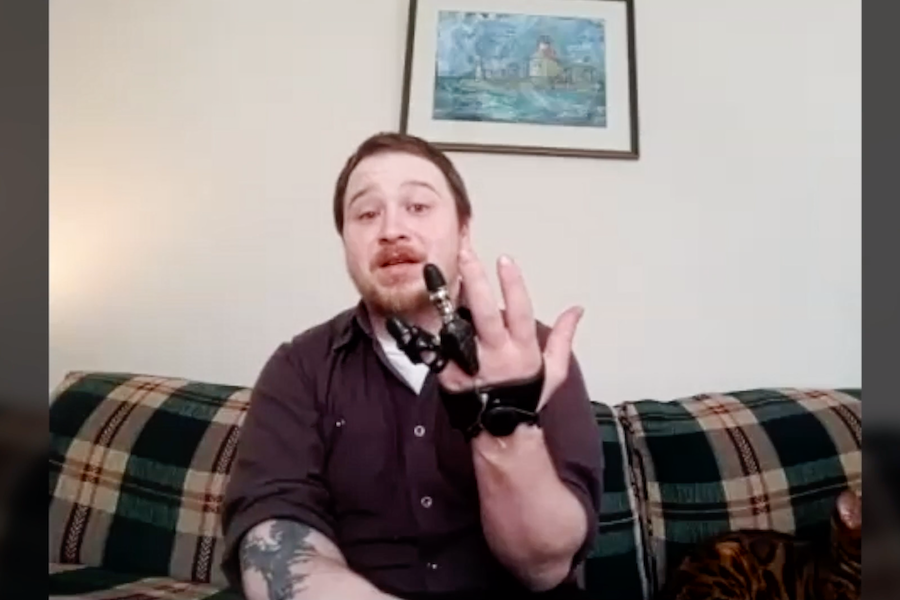 Not Always a Perfect Fit
This isn't just an issue with manufacturers — it can be an issue with other prosthetic care providers as well. Fitting upper limb differences is very different than fitting lower limb differences, and 90% of all limb differences are lower leg. That means most other prosthetic care providers only see one or two upper limb cases a year. While getting your residual finger circumference and the length you need may seem simple, it's not all that's necessary to be fit with a prosthesis that will be functional. The advancement of 3D printing has been excellent for making prosthetic sockets and frames fit snuggly and comfortably — but it needs to be paired with in-person socket design and modification. Our trained prosthetists take plaster casts or silicone impressions of your residual finger, hand or limb and, together with our highly experienced fabrication lab technicians, use their expertise to design something that is truly meant just for you.
People all levels of limb differences need to make sure their prosthesis fits comfortably in all situations so they are willing to wear it at all. Our patient Emily is an above-elbow amputee and the first prosthesis she was fit with from a different company "sat useless for almost two years." Now with her new socket, frame and single-motor myoelectric hand, she's wearing her prosthesis an average of five or six hours a day. "It's night and day for my balance."
Less Follow-Up Care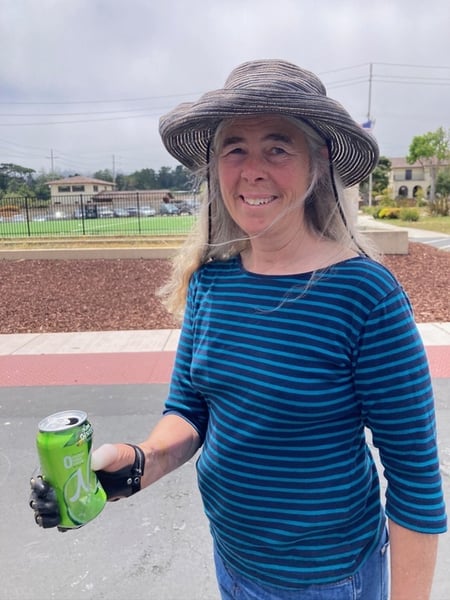 Our Arm Dynamics clinical teams provide lifelong care. This meant when Lynda (pictured to the left) began to feel pain in her residual hand when she would use her device for long hours, or do arduous tasks, she could discuss that with her prosthetist at her follow-up appointment. She discussed her experience as it happened to her: "Before my appointment, I took the time to think about what didn't feel quite right. Even though the pain was intermittent, I made a mental note to discuss that with my prosthetist." Mac, her prosthetist in our Portland, OR, center, took a look at where she was hurting and realized the prosthesis was pulling on a nerve. Mac and our Portland technician, Cullen, were able to change the design of the prosthesis during Lynda's visit so that she's now much more comfortable.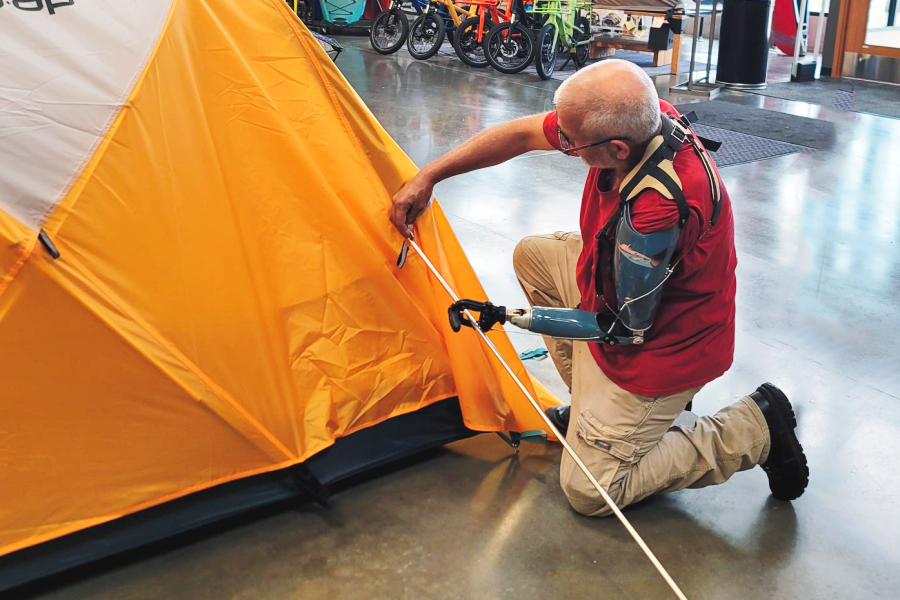 Lifelong care also means that when Doug (pictured above) was too tough on his V2P, he could take it to his prosthetist, Scott, and ask what could be done. "It got knocked out of whack 'cause I used it so much. Apparently, I pushed it past its limits." Scott determined that Doug, a super user, needed a tougher V2P. "As soon as I get that terminal device back, I'm going camping."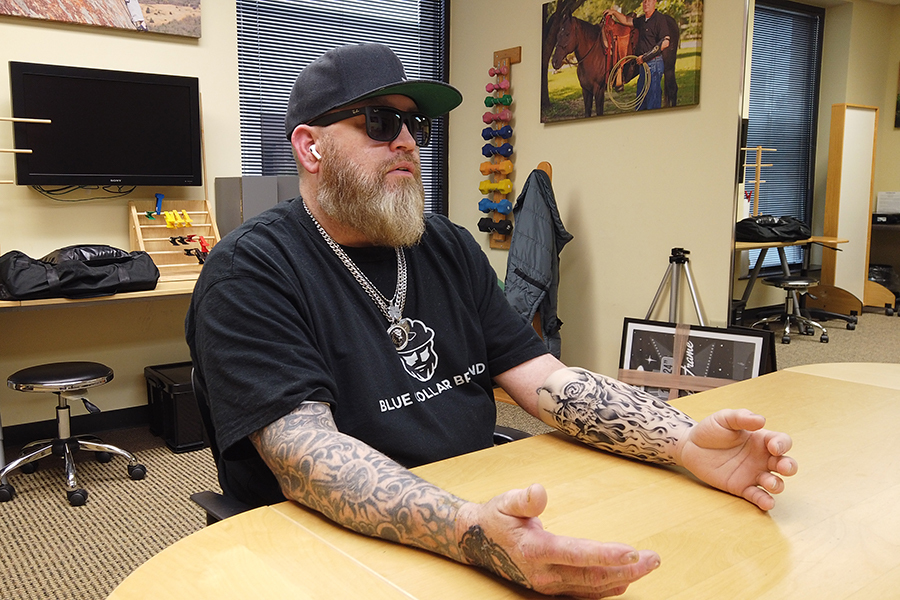 Lifelong care offered Abe (pictured above) the ability to not get stopped everywhere he went. "When you go through the airport with your TASKA hand, everyone wants to talk to you. Once you tell your story so many times, you're just, ehh — you don't want to all the time. I just want to be able to blend in with a crowd." Abe, who never thought he'd have any need for a cosmetic prosthesis, flew from his home in Tennessee to come to our Dallas center to be fit. You can watch him talk about why he's willing to travel for our prosthetic care in the video below:
Our Senior Clinical Director, John Miguelez, has expressed his thoughts on why in-person fittings are so critical for excellent patient care: "We do appreciate that prosthetic devices are becoming more widely available, but we are concerned that many of those devices may not be providing the function and comfort they could be when fit correctly. This is especially worrisome because every time someone has a negative experience with wearing a prosthetic device, it may discourage them from wearing one in the future. While we respect everyone's choices, we know that not wearing a device can lead to pain and overuse issues. The goal of our prosthetists and clinical therapy specialists is to make sure that those who want to wear a prosthesis are happy and functional with their device."
If you, or someone you know, would like to learn more about how we walk our potential patients through their options and provide them with fast, exceptional service, please contact us. We offer complimentary consultations, either via video chat or in person. If we do get to meet you face to face, we can guarantee we will make your travel time worth it with exceptional care that will allow you to Redefine Possibility. If you would like to leave a comment, please do so below.