The Process of Getting a Prosthetic Device: From Start to Finish
by Amber Henson, on Mar 30, 2021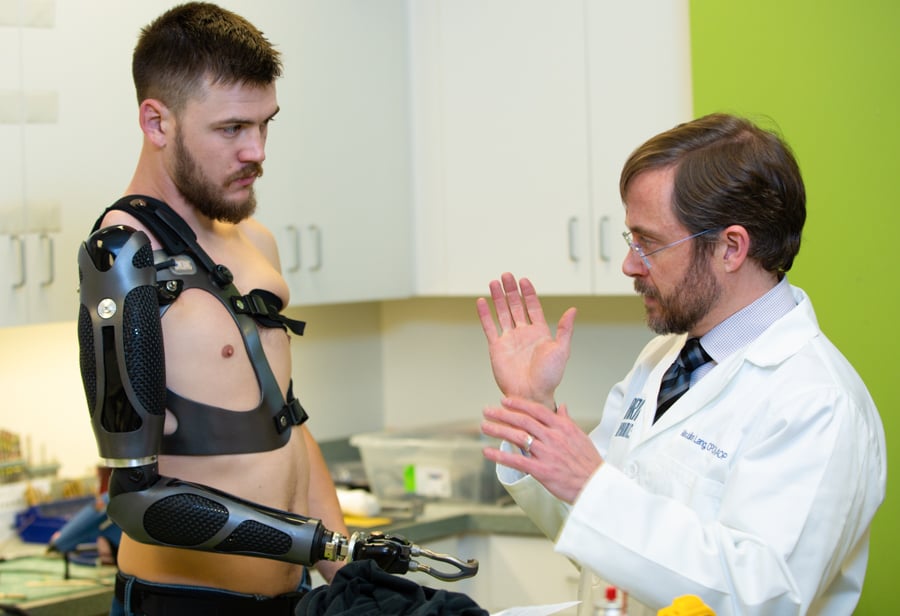 Our goal is to fit our patients with their prosthetic devices as quickly as possible. Our process focuses on expedited fitting. The path to getting to that expedited fitting depends on the patient's insurance and their unique situation.
Getting started: learning more
We have an article that's all about the first steps you'll need to take on the journey of getting a prosthetic device. These steps include doing your research and contacting your physician. One of the ways to do your research is to learn about the terms that you'll be hearing while talking with healthcare professionals and prosthetists. Another thing to research is what kind of prosthetic devices are out there and what kind you think would help you reach your personal and professional goals.
Meeting with us: in-person or online
You will learn many things during your visit, including applicable prosthetic options for your level of limb loss and a demonstration of the latest prosthetic technologies. You'll also learn about how we'll create a customized prosthetic rehabilitation plan to make sure you have the tools and training you need to achieve your goals.
Do you live far away or would you prefer speaking to us online to start? Not a problem. We offer remote telehealth visits.
We do hope that you decide to make us your prosthetic care partner, but we also encourage you to visit other providers — just one of the suggestions in our article Tips for Choosing an Upper Limb Prosthetist.
What makes us so different? It's our Redefining Possibility special sauce, and we're happy to share the ingredients:
Want to be a part of our magic, but we happen to be out of your insurance carrier's network? We have an article about how to handle that.
Joining the Arm Dynamics family
Once your evaluation is complete, we start in on contacting both your physician and your insurance carrier. We will keep in contact with you and let you know if there's anything we need from you, like referrals or prescriptions.
In addition, we may need you to advocate on your own behalf. That will depend on how the initial authorization process goes with your insurance company and whether an appeal is necessary. This is one of the things we will keep you updated on.
We also want to keep in close contact with you in case you need to inform us of any changes, like a change in your insurance carrier, if you're moving or getting married.
Claim authorized! Now for your expedited fitting
Once your claim has been approved, we'll schedule a time for you to come to one of our centers for three to five days (possibly longer for more complicated cases) to be fit. If we're close to you, great! If not, this may be a great opportunity for some traveling. Once you have an initial prosthesis, our clinical therapy specialists will help you learn how to use it while your definitive prosthesis is being finalized. Then you'll walk out the door with your customized device that you know how to operate.
You've got it!
We'll check in with you at six and twelve months to ask how you are doing. If you're able to come into one of our centers, we would love to see how your device is performing. In the meantime, you should follow a wear schedule for your device and be sure to take good care of both your prosthesis and your residual limb. We pride ourselves on providing lifelong care for our patients — so we'll be there for you for any further training you need, or optimization of your prosthetic device. That way, you can adapt to any changes in your life, such as a new job or hobby, or anything else new that comes along.
Are you ready to start your journey with us? Great! Contact us and ask for an appointment. Do you have any questions or comments about the process? Please feel free to use our comment section below. Thanks for joining us in learning about how to begin your prosthetic care journey!
For more information, see related articles here: